The mining industry in South Africa faces many challenges, among them – COVID-19 aside – the availability of appropriately skilled individuals to staff operations. It is a requirement of the country's Mining Charter that all companies invest 5% of annual leviable payroll in skills development – an amount separate from the 1% of their payroll that is the skills-development levy that all companies must contribute. The Mining Qualifications Authority (MQA), which is the Sector Education and Training Authority (SETA) for the mining industry and which administers and develops learning programmes for it, receives 80% of the aforementioned 5% skills levy.
According to the most recent figures from the Minerals Council South Africa, around ZAR7 billion was invested in skills development in the mining industry during 2018. Moreover, 13 000 tertiary education learners were supported by the sector between 2013 and 2018, and more than 10 000 apprenticeships were undertaken over this same period.
One of the highest priorities for all mining companies currently is safety. In 2019, the fatality rate in the industry hit a record low, with 51 fatalities. This followed a particularly tough 2018, when 81 people in the industry died. As of November 2020, there had been 52 fatalities, according to the Department of Mineral Resources and Energy. As such, health and safety forms a crucial part of all companies' training modules.
Kumba Iron Ore runs two operations in the Northern Cape province – the Sishen and Kolomela mines. Its 2019 sustainability report notes that it invested ZAR289 million in training and development in the year under review – 6.3% of payroll at Sishen and 5.3% at Kolomela. In its efforts to have fatality-free operations, one of its key training areas focuses on safety. Safety-related training is thus extended to its workforce in various forms, ranging from formal training initiatives to regular or daily safety briefings. Among the various types of training the company offered, some 260 employees undertook safety-representative training during the year, while 3 784 attended first-aid training and 4 490 were trained in firefighting skills.
Coal-focused mining company Wescoal, which has three operating mines and four processing plants, spent ZAR3.7 million on personnel training in 2018/19. According to its integrated annual report for the year ended 31 March 2020, 673 employees and contractors received training in terms of HSE representative training, firefighting, first aid and hazard identification, and risk assessment. It notes ongoing training as an operational imperative to maintain its high safety and health standards and zero fatality rate, and ensures training modules are presented monthly.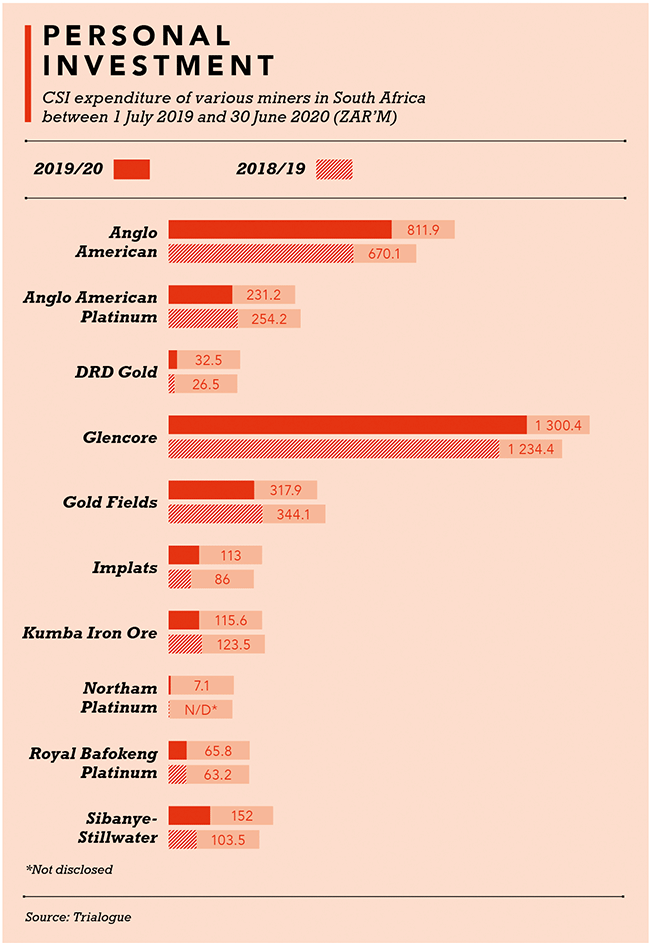 James Wellsted, Sibanye-Stillwater senior VP of investor relations, refers to learning and development as a 'business imperative'. The precious-metals company provides training and skills-development initiatives across a range of areas, including the core technical disciplines of mining and engineering, and associated technical-services support disciplines, such as mineral-resources management, health and safety, rock engineering and environmental engineering.
The company's learning and development model comprises four key areas: mandatory compliance training (to meet the requirement for provision of health and safety training); occupational certificate of competency programmes; further and higher education and training programmes; and leadership and managerial skills-training programmes.
Wellsted notes that the company's learning and development targets form an integral part of the annual strategic plan review and budget process. 'Training targets are reviewed annually, determined by the business demand for skills to achieve business objectives, ensuring that these demands also address legislative compliance requirements, which include social and labour plan commitments,' he says. 'Learning and development delivery is reported on a monthly basis to all operations and employee stakeholders, while the Sibanye-Stillwater Academy board holds senior management reviews quarterly.'
During 2019, some 1 067 of the company's employees undertook adult education and training (a total of 384 120 training hours), while 554 were given portable-skills training (26 592 total training hours). As many as 127 256 participated in core-skills training (8 144 384 total training hours).
Wellsted says that while training and development certainly has a significant impact on productivity at Sibanye-Stillwater, it is difficult to directly quantify a specific value for this, given that training is among several drivers of productivity at the company. The impact of upskilling initiatives on staff morale, meanwhile, is easily evident.
'Training and development has a direct impact on staff morale, firstly by means of an increased willingness to perform, as a direct result of having gained new insight or motivation due to having attended a training intervention,' he says.
Sibanye-Stillwater conducted two specific programmes during 2019 where the morale impact was most evident, says Wellsted. These included a behaviour-based training intervention aimed at influencing employee behaviour and approach to safety compliance at a production-team level, and a middle-management development programme – a leadership capacity and behaviour initiative aimed at influencing the leadership style and approach of middle management to create higher levels of employee engagement.
Sven Lunsche, VP of corporate affairs at Gold Fields, says the company has fully equipped training centres in both South Africa and Ghana with a full range of technical-skills training, from learner to refresher programmes. Asked how the company determines what sort of training is needed, Lunsche says that each year, employees have development plans updated in line with their preferred career path, which determines the training requirements. The training is then scheduled per employee as per their development plan.
Gold Fields' total spend on the more than 54 000 training programmes run during 2019 was US$10 810 810. Through this, 3 766 people received training in mining; 1 715 people received training in engineering; and 706 people received training in tech services. In total, 1 049 948 total training hours were undertaken across the group.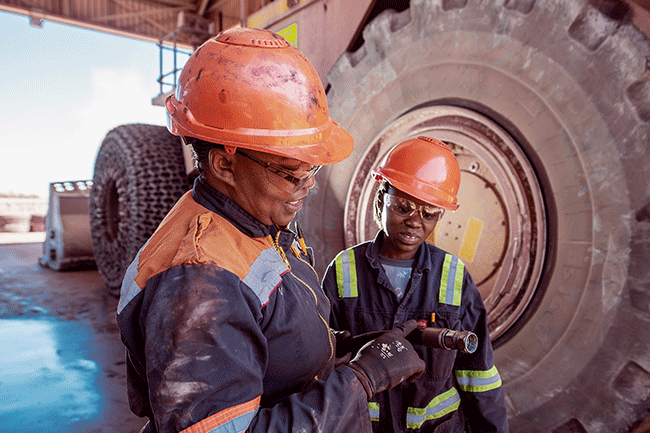 Access to training and development is highly valued by the company's employees, says Lunsche, and has a definite impact on employee engagement. Targeted skills training based on a well-thought-through development plan also has a high impact on company productivity, he says, although technical training 'needs to be combined with the relevant people- and leadership-skills training for supervisors and managers' in order to be effective. 'Skills training on its own is not sufficient to drive business performance.'
Michelle Pawson, training and development manager at Impala Platinum's Springs-based Impala refinery, explains the company's approach to skills development. 'At Impala, all employees are seen as talented, and we believe in placing the right employee in the right position at the right time to ensure [the] optimum job-fit [that is] beneficial to both the employee and the business.'
Each employee completes an individual development plan on a yearly basis to indicate training and development needs required for their role, says Pawson, as well as to indicate career aspirations. 'Training and development interventions are then scheduled accordingly based on received information.'
The company has annual training targets, as reflected in its five-year social and labour plans submitted to the Department of Mineral Resources and Energy. Implats also works closely with the MQA to secure mandatory and discretionary grants for the development of employees, as well as external unemployed parties, says Pawson, thus aligning with South Africa's national skills-development strategy.
According to Implats' 2019 Sustainable Development report, in the year under review, the company's South African operations invested ZAR465 million in skills development, with 93% of employees receiving training, while the Zimbabwean operation spent US$1.3 million on skills development. The group average number of hours of training per employee was 68, while each contractor received an average of 106.5 hours of training.
Speaking to the impact that training has on staff morale, Pawson says that 'the youth of today highly value career growth opportunities and will seek employment in industries where personal growth is seen as part and parcel of the benefits of working there'.
To achieve career growth, targeted training is required for an employee's current and future roles within the organisation, she continues. 'At Impala, the development of all employees is seen as critical, and interventions are put in place to ensure career growth for all employees. Employees greatly appreciate opportunities where they are provided with workplace coaches to do on-the-job coaching for future supervisory- type roles and where they are then able to demonstrate competence by performing some of the duties by themselves, leading to a greater sense of autonomy.'
Mining firms are certainly taking seriously the business of upskilling their workforces and trying to address the skills shortage. Hopefully it's enough to sustain an industry that, says the MCSA, contributed ZAR360.9 billion to South Africa's GDP in 2019 and is considered a pillar of the country's economy into the Fourth Industrial Revolution.
As independent researcher and author of the Why Mining Still Matters report Ivo Vegter says, 'South Africa needs the mining industry not just to survive, but to thrive'.
By Toni Muir
Images Anglo American