Tanzania is the fourth-largest gold producer in Africa, behind South Africa, Ghana and Mali. It also has vast deposits of natural gas and semi-precious stones as well as significant reserves of diamonds, uranium and coal. Yet with the exception of gold, it is a still-developing jurisdiction with more potential than actual production.
Tanzania's gold mines are located in a remote part of the country. Prior to their establishment, the north-west had almost no infrastructure and the direct contribution of AngloGold Ashanti and Barrick Gold – to roads and electricity infrastructure especially – was considered part of the process of 'earning their licences to operate'.
Barrick Gold spent US$28 million extending the national grid to its North Mara mine. That mine, a combined pit and underground operation that opened in 2002, has been especially problematic for the company. Not only has grid electricity supply proven unreliable but there have also been issues with the local workforce as well as informal miners.
Tanzania is also part of the Mozambique metamorphic belt, the world's richest source of semi-precious gems, stretching from northern Mozambique to Ethiopia. Much of the extraction is informal, in the hands of artisanal miners and tends to be unrecorded and untaxed. The major exception is tanzanite, a gemstone that has become a national symbol and such a focus of national pride that it was suggested it be recorded alongside gold reserves in the national accounts.
Many jewellers believe that tanzanite is an unexceptional gemstone but a viable international market has been created through an astute campaign spearheaded by premier jewellery manufacturer Tiffany & Co of New York. The Tanzanian government has imposed licensing and registration requirements on the tanzanite industry and benefits from exports valued at more than US$100 million.
Other mining sectors in Tanzania are less developed. Viable iron ore reserves have been identified in the deep hinterland of the country and one project – Liganga, near the north end of Lake Malawi – appears to be going ahead with the backing of Tanzania China International Mineral Resources (TCIMRL). The extraction of iron ore is linked to coal deposits at Mchuma – TCIMRL's plan is to build a 600 MW power station and use this to fuel a refinery at Liganga.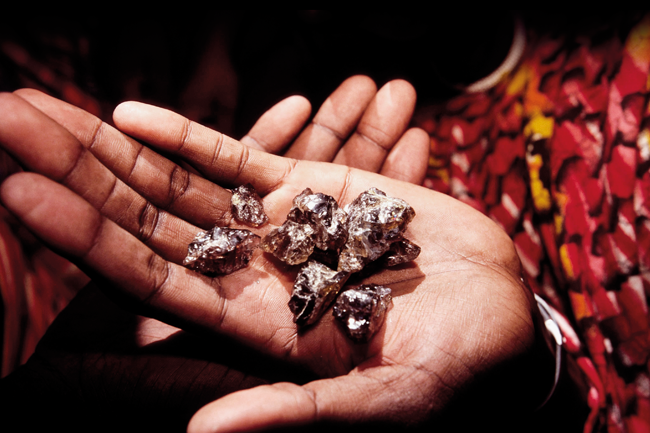 Despite a much lower iron-ore price, the project appeared to be on course in mid-2016, according to the Tanzanian government. The Liganga steel project alone requires investment of US$1.8 billion. By late 2016, only the construction of access roads to the area had begun. The project is consistent with the government's policy of insisting on beneficiation.
A cheaper and perhaps easier option would have been to export the iron ore unprocessed via Mtwara in south Tanzania. That port was originally built to support a colonial groundnut scheme in the late 1940s. It had long been under-utilised but has revived on the back of the emerging natural gas industry.
The really big natural gas discoveries – offshore along Tanzania's south coast – date back to 2011 and hold the potential to make the country a gas-producing superpower. Including later discoveries, as well as some onshore, the 2016 figure for recoverable gas reserves is 57 trillion cubic feet, giving it a potential at least twice the size of the UK's North Sea gas fields. While a final decision on the building of an export facility – a liquid natural gas 'train' – has not yet been made, the resource has already made a big difference to Tanzania's energy security.
A potential mineral of the future in Tanzania is uranium. The Tanzania Investment Centre says that what it calls 'huge deposits' have been found in the country. A mine is planned at Mkuju, 470 km south-west of Dar es Salaam, with Russia's Uranium One as the operator. Other deposits exist near Dodoma and in the north, near Mount Kilimanjaro.
Although there are vast areas unexplored, with the potential of untapped reserves, it is on the political front where most of the action has been recently. Mining executives are concerned with the indications of resource nationalism that seem to be on the rise following the election of President John Magufuli in November 2015. Magufuli – known as 'the Bulldozer', a nickname that reflects his reputation for 'getting things done' when he was Minister of Works under predecessor Jakaya Kikwete – has brought the same energy and determination to the presidency and earned plaudits for attacking waste and corruption.
His actions have been popular in Tanzania. He has fired hundreds of senior officials, including the Minister of Home Affairs and has sought to revive the sort of parsimony and public service ethic associated with Julius Nyerere, the country's revered founding father.
In November last year, Magufuli announced that the government would be cracking down on tax evasion, corruption, fraud and mismanagement in the mining industry. Squarely in the government's sights is the 63.9% Barrick Gold-owned Acacia Mining, which a Tanzanian government tax tribunal in March ordered to pay US$41.25 million on tax-evasion charges. The Tanzanian Revenue Authority claimed that Acacia was under-reporting its profits and thus tax liability from its three gold mines in north-western Tanzania, while distributing (undeclared) earnings in London. The company appealed the ruling, only to lose again in the High Court in October.
For Acacia Mining, the most damaging revelations in court were that the company's supposed head office in Dar es Salaam has only symbolic powers and that operations are effectively controlled from London. The country's 2010 Mining Act requires that mining companies operating in Tanzania list on the Dar es Salaam Stock Exchange, a law that came into effect in November 2016. The legislation emphasises the importance of local ownership and content.
Alongside his demands for clean and efficient government, the Bulldozer is insisting on indigenous industrial development – something mining companies don't like, as it adds risk and complication to any project. But Chinese and Russian mining interests may be less averse to these sorts of arrangements.
What transpires in Tanzania's gas, iron ore and uranium sectors may well set a pattern that will determine the future of the country's gold industry too.
By David Christianson
Images: Gallo/Getty Images/PatrickAventurier, Gallo/Getty Images