Ask most people where they first heard about IBM's Watson computer system and they'll probably answer Jeopardy!. In 2011, the state-of-the-art question-answering computer system competed on the US TV quiz game show, and answered its way to the first-place prize of US$1 million. So why is this important for the mining industry?
The answer to that question can be found in the Red Lake Gold Mines complex of Canada's gold-rush Ontario province. Here, working with local mining company Goldcorp, IBM has created an innovative product that uses Watson's artificial intelligence system to predict the potential for gold mineralisation. IBM Exploration with Watson leverages spatial analytics, machine learning and predictive models to help Goldcorp gather data and develop geological extrapolations in a fraction of the time and cost of traditional methods.

'Applying the power of IBM Watson to these unique challenges differentiates us in the natural resources industry,' Mark Fawcett, partner at IBM Canada, said at the launch of the system in November. 'We are using accelerated computing power for complex geospatial queries that can harmonise geological data from an entire site on a single platform. This is the first time this solution has been ever used, which makes this project all the more significant.' Fawcett added that the geologists' ability to extract more information through this new solution will lead to the recovery of an estimated 9 000 additional ounces (280 kg) of gold, while increasing the success rate of expansion drilling by 25%.
While geological exploration always looks at data in a 3D context, the challenge has been finding a way to quickly compute the spatial relationships between the multitude of points and shapes. With Red Lake sitting on an 80-year backlog of information, IBM Watson's system is using sophisticated algorithms to speed up the data process, freeing up the geologists to analyse the data and uncover new insights. As one Goldcorp employee said before the launch of the new system: 'Right now, you have highly qualified people that are wasting time, messing around in spreadsheets.'
Data-driven technology is transforming the extraction process in three key phases of operation: exploration (through the use of sensors, computer and wireless communication); operation (with extractive operations performed by computer operators who are located thousands of kilometres away); and processing (where the technology increases the efficiency and quality of the operations, and improves the refining process and quality of the material).
Goldcorp is already celebrating the bottom-line benefits of its IBM Watson-enabled system. The WEF has predicted that digitalisation could add more than US$425 billion of value (equalling about 4% of industry revenue) for the mining and metals industry, customers, society and environment over the 10 years leading to 2025. But there's more to it than monetary value: the same WEF study predicted an industry-wide reduction of 610 million tons of CO2 emissions; and improved safety, with around 1 000 lives saved and 44 000 injuries avoided.
By now, the notion of big data is nothing new – especially not in the mining sector, which is no stranger to multivariate statistics, real-time monitoring and high-tech sensor networks. The question, though, is how do you use that information effectively, and what do you use it for? The theoretical list of benefits virtually writes itself. The data-driven digital mine of the future will benefit from integrated operational planning, automated decision support processes, efficient autonomous vehicles, accurate data collection via unmanned drones, real-time safety monitoring, geological data gathering and so on. Control centres can monitor the volumes of minerals being extracted, track the number of vehicles moving to and from the site, and – via wearable technology – keep track of the health and whereabouts of every individual mine worker.
As at Red Lake, realtime data monitoring will allow new insights to work alongside historical data, enabling operators to plan improvements in the supply chain and predict future outcomes. The theory is all well and good. It's only when one sees the practical application of the data-driven digital mine that one fully appreciates the possibilities of this disruptive technology. For a real-world example of real-time data monitoring, we move to the copper mines of the DRC.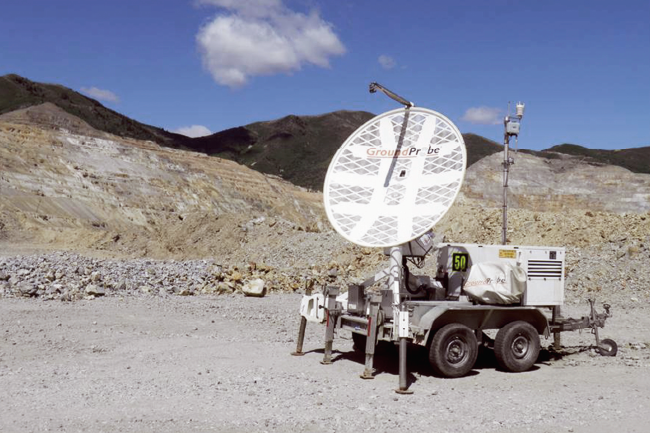 Here, in the DRC's Lualaba province, about 25 km west of the mining town Kolwezi, lies Ivanhoe Mines' flagship Kamoa-Kakula project. Ranked as one of the world's largest undeveloped, high-grade copper discoveries, the project has been a hive of exploratory activity since the Kamoa copper deposit was discovered in 2008 (followed by the high-grade Kakula deposit in 2015). People and equipment have been moving across the site constantly, along remote, unpaved roads where drivers routinely encounter three-metre potholes and blinding dust clouds, and where a journey that should take a few hours can take a few days. Those poor roads made it essential for Ivanhoe's control centre to keep track of the vehicles and to monitor their assets; but the area's patchy cellular coverage made effective tracking and communication all but impossible.
To solve the problem, Ivanhoe worked with satellite company Inmarsat to deploy a comprehensive vehicle telemetry, asset tracking and communication system. The route to and from the mine site includes a number of 'geofences', which allow staff in the control centre to visualise the location of the vehicles. Reports are automated every night to allow inventories to be cross-checked and to ensure the company's assets are exactly where they should be.
'We wanted to reduce the speed at which our drivers travel on the roads, to reduce the damage done to vehicles if they hit potholes or other obstructions, and to reduce the risk of accidents,' says Matthieu Bos, vice-president of corporate development at Ivanhoe Mines. 'Inmarsat's solution enables us to track the speed of every vehicle every minute, and if this speed exceeds 80 km/hour or over 30 km in certain zones, the office and driver are alerted and the vehicle is prompted to slow down. We can also monitor location with pinpoint accuracy, so that if a vehicle hasn't moved in some time, we can contact the driver to establish whether they've had an accident or a breakdown.' Bos adds that the company now has 'complete confidence' that it will be instantly aware of any issue with a driver or vehicle, and can respond immediately to provide assistance. In addition, he says, 'we have improved relations with people from our local communities by reducing disruption as our vehicles pass through their villages'.

Inmarsat's system, then, is providing Ivanhoe Mines with a clear answer to a simple question: where are our vehicles right now? Other mines will have other questions. How many miners are underground? How many times have the trucks moved in reverse during a single shift? How much has been extracted today? Where is the best place to look for gold? Is that area safe to explore? In each case, increasingly sophisticated data-driven systems are now providing the answers. The question that remains is how to use those tools to increase value and drive efficiencies.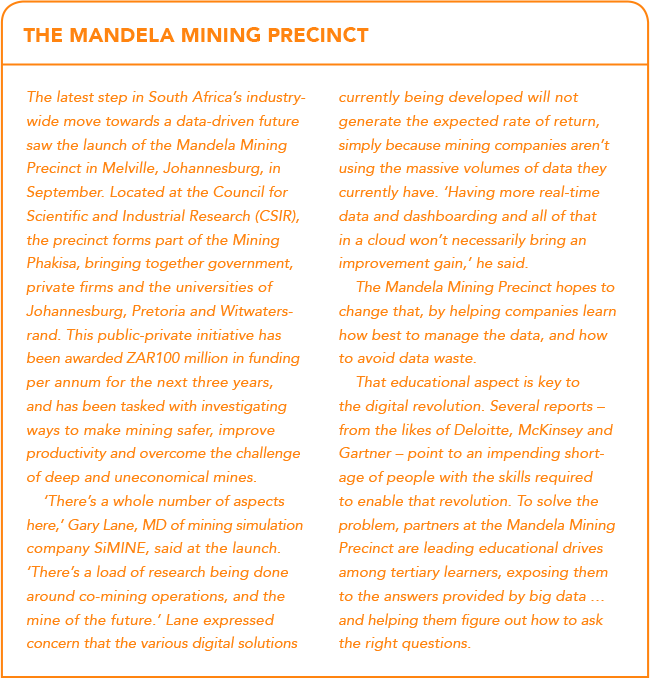 By Mark van Dijk
Images: Rio Tinto