'If you have recently finished matric and you had a good academic record, then this opportunity is for you,' says a recent advert by Glencore Coal SA on www.careersportal.co.za. As one of the world's largest diversified natural resource companies, the group is striving to keep its talent pipeline flowing – a mammoth task that involves identifying young candidates, training, recruiting, mentoring and promoting them in a workforce of 158 000 people in more than 90 offices in at least 50 countries.
Glencore's tertiary-level bursaries for 'dynamic, results-orientated students' extend to the fields of mining, electrical and mechanical engineering; BCom (financial management); geology; metallurgy; and mining survey. The tuition fees are covered, as are residence and meals, textbooks and personal allowances, in addition to paid vacation work. 'So if you think you've got what it takes to join a global leader in the mining and metals sector, apply today for an exciting tomorrow,' says Rio Tinto in another advert on the same online careers platform. The company's 2019 learnerships include training as plater welder and fitter as well as in the electrical trade for its Richards Bay operations in KwaZulu-Natal.
Earlier this year, Sibanye-Stillwater had openings for mining learnerships in engineering and internships for community human resources projects, while ArcelorMittal SA was advertising for 160 production learners. The steel producer's 12- to 18-month learnerships address candidates who show an interest in being a process operator and have passed Grade 12 (with a matric pass rate of at least 40% in mathematics or maths literacy and English). No prior training or work experience is needed.
These randomly selected adverts indicate that companies are still making an effort to attract the next generation of miners and are developing them to suit different competency levels. According to the Minerals Council South Africa (MCSA), member companies are implementing their own dedicated programmes focused on youth training and skills development, ranging from learnerships and internships to tertiary bursaries and the transfer of portable skills (in mechanical, electrical and construction trades). This includes initiatives in the host and labour-sending communities. Harmony Gold has, for example, quadrupled its portable skills training in recent years, with more than half of the beneficiaries (57% in FY2018) being children or other dependants of mine employees.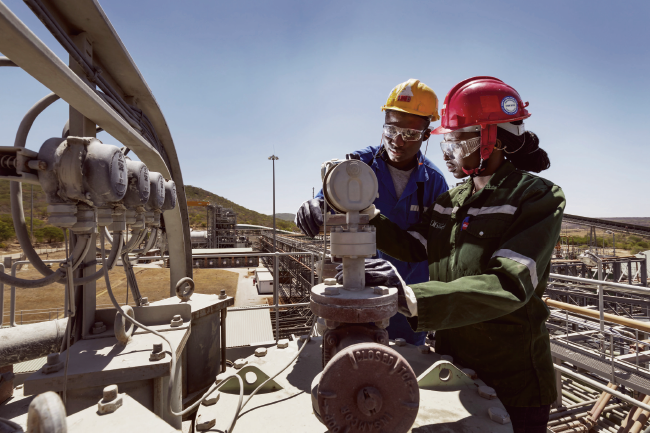 In 2017 South African mining companies invested about ZAR6 billion in skills development, while more than 10 000 apprenticeships and 13 000 tertiary education learners were supported between 2013 and 2017. The South African mining sector is creating 'a magnitude of employment opportunities', says Mustak Ally, head of skills development at the MCSA. 'If one were to consider the "upstream" and "downstream" activities that interact into this sector, such as supply chain, beneficiation and manufacturing among others, then the contribution to GDP would be above 17%. 'Furthermore, the mining sector is moving through an age of modernisation, digitisation and alignment with the Fourth Industrial Revolution. With this evolution of the sector being in its infancy or beginning stages, it provides a very exciting and challenging environment for those who want to enter the sector.'
In 2018, the MCSA offered four higher-education graduates an internship. 'We deployed them into our MOSH [Mining Occupational Safety and Health] Learning Hub and coupled them to relevant experts at the Minerals Council, who took up the role of supervisor, coach and mentor to the graduates,' says Ally. 'Of the four graduates, three black women have been permanently employed. Currently we are exploring expansion of this programme to about 10 graduates across various other functional areas.'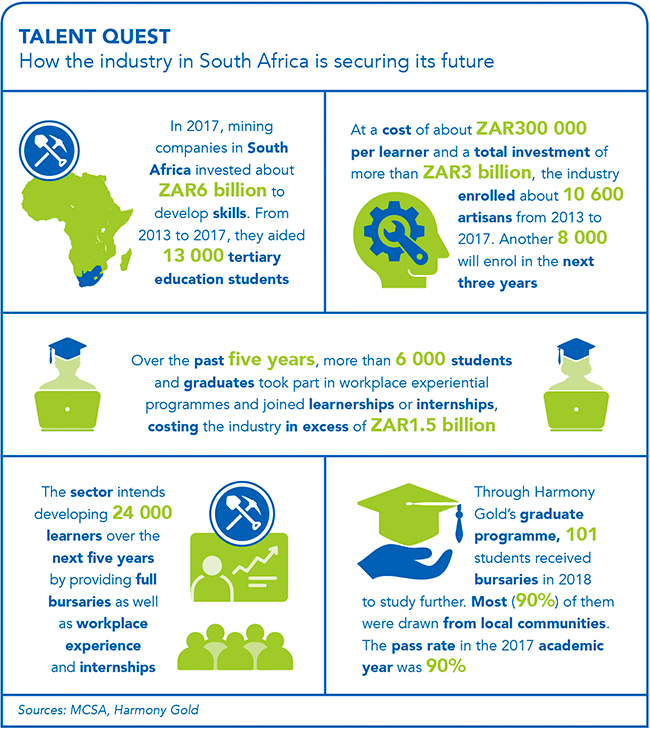 He has previously underlined the importance of continuous investment in youth to avoid the shortage of artisans and engineers that gripped South Africa in the mid-1990s/early 2000s after mining companies had cut back on technical training. However, many learners, especially those living in non-mining areas, don't know enough about mining to even consider it as a career.
A spot survey by Mining Decisions in the Western Cape revealed some outdated perceptions. For instance, a 10th-grader still associated mining with working underground with a pickaxe. An 11th-grader planning to study engineering didn't want to work for a mining company because she worried about the longevity of the sector as well as the treatment of employees and communities. A first-year health sciences student discounted a medical career in mining as he expected frequent underground emergencies and accidents, being unaware of potential roles in occupational wellness and primary healthcare for the workforce and mining communities.
There's clearly a need to educate youth about the realities of modern mining – its drive towards social and environmental sustainability, its 'zero harm' health and safety protocols, and its wide variety of job specifications that – directly and indirectly – support the automated high-tech mine of the future. Also, young people need to understand that mining is essential to modern life, following the principle of 'if it can't be grown, it has to be mined'.

As a starting point, President Cyril Ramaphosa has proposed introducing mining sciences as one of several new specialised subjects into the school curriculum – along with technical maths, technical sciences, maritime sciences, aviation studies and aquaponics, according to BusinessTech. 'The Minerals Council has also set up a Mining for Schools website [www.miningforschools.co.za] that supports and promotes the South African mining industry [and] provides resources for teachers and learners to reinforce, enhance and extend learning,' says Ally.
The Mining Qualification Authority (MQA) says that as part of the drive to expose young people to careers related to the mining and minerals sector, it participated in 21 career guidance events across all nine South African provinces during the first quarter of the 2018/19 financial year. One of these was the annual Learners' Focus Week, hosted by the Department of Mineral Resources at Nelson Mandela University in the Eastern Cape. 'The programme targets learners from grades 10 to 12 to promote skills development and career guidance in mathematics, science and technology fields, in an effort to improve interest in these sectors,' states the MQA in its newsletter. 'The participating learners from various provinces compete in creating innovative problem-solving mining-related projects. The winners of this mining project competition are awarded prizes that include bursaries in order to pursue mining related qualifications.'
Godfrey Oliphant, South African Deputy Minister of Mineral Resources, has urged the country's youth and women to take up careers in mining and close the skills shortage gap so that the industry can achieve its transformation targets. During the Young Leaders Career Development Programme at the 2018 Mining Indaba, African News Agency quotes him as saying: 'We have 53 commodities that should be championed by young people in the country, particularly blacks and women. We have sought to ensure that young people in high school obtain the necessary support in areas such as career guidance and the much-needed maths and science competencies. The MQA funds over 1 000 bursars from universities, universities of technology and TVET colleges annually.' This would not be possible without the private sector. For example, Sibanye-Stillwater is investing a total of ZAR20 million per year in tertiary institutions.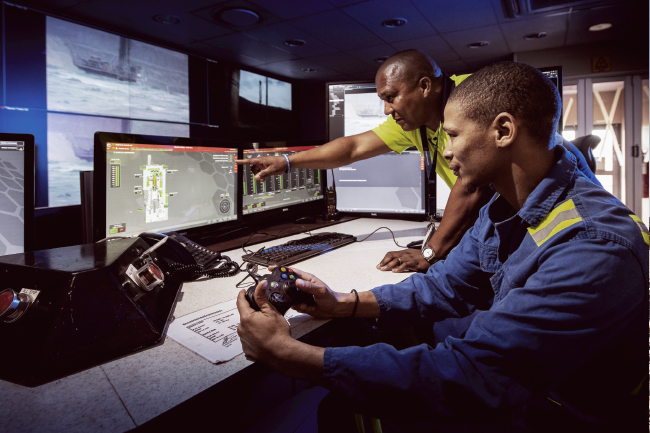 In its 2018 annual report, the gold and platinum group metals producer explains that this includes a ZAR5 million investment in the University of Johannesburg's mining engineering faculty, which supports the miner's long-term research and development strategy, and the original ZAR5 million commitment to its flagship project, the Digital Mining Laboratory at Wits University's Mining Institute, launched in 2018. Sibanye-Stillwater said it would inject an additional ZAR10 million annually over the next three years.
Even small corporate sponsorships are appreciated – such as mining equipment firm Epiroc donating jackets to 120 Wits students of mine design and rock engineering – as the majority of students come from a disadvantaged background, according to Cuthbert Musingwini, head of the Wits School of Mining Engineering. On top of existing youth training programmes, some miners also facilitate youth entrepreneurship. Anglo American has revised its long-standing Zimele enterprise development programme, with one of its three focus areas now exclusively targeting young people aged between 18 and 35. Launched in October 2018, the revamped programme mentors and supports youth in selected mining communities to start or grow their own businesses, or simply prepare for formal employment.

The training is rolled out in waves, each accommodating a group of 15 to 30 young people in a nine-month programme. For the first three months, they are led by a peer councillor to identify their personal goals and develop an action plan. 'You will need to commit 10 to 15 hours per week, over three months,' says Anglo American. 'Then there's six months of "after care", which includes mentorship, business plan competitions, networking, job and career fairs, and other opportunities to help you achieve your goals.'
Once young people know where to look, they will find that the mining industry offers diverse career paths, promising constantly changing opportunities and innovative job descriptions – be it upstream or downstream, as employee, contractor or small business owner.
By Silke Colquhoun
Images: Gallo/Getty images, Anglo American