Despite the good news of increased commodity prices, the industry was rocked by an increase in fatalities last year. On 28 October 2021, the number of deaths at the country's mines stood at 55, compared to 43 at the same time in 2020, representing a second year of regression in safety performance. Nobody was happy about it – not mining houses, not mineworkers, not industry bodies or government, and certainly not the CEO Zero Harm Forum.
'We are seriously concerned about this regression in safety,' said chairperson Themba Mkhwanazi. 'We need to reflect, regroup, get back on track and minimise exposure of our people to hazardous situations. With the regression we are experiencing, we need to put a lot more focus on technology and modernisation to improve skills and mining methods to keep employees safe.'
To its immense credit, the industry moved quickly to get to the bottom of the problem. In November the Department of Mineral Resources and Energy, organised labour, mine professional associations and mining suppliers worked together to arrange the MineSafe summit, in a bid to establish urgent corrective measures.
Ahead of the summit, Mkhwanazi made clear where he believed the solution lies. 'As human beings we all make mistakes,' he said. 'By using technology we can start eliminating the fatal risks from unintentional mistakes.' But what does that technology look like, and how could it help to eliminate the root causes of mining's safety challenges?
A hint lies in a research review published in 2021 by China's Anhui University of Science and Technology. After reviewing 59 papers, the researchers categorised safety issues in coal mining into three main factors, namely general safety issues, environmental factors and mining-information technology. Those factors – especially information technology – could apply to any if not all underground mining operations.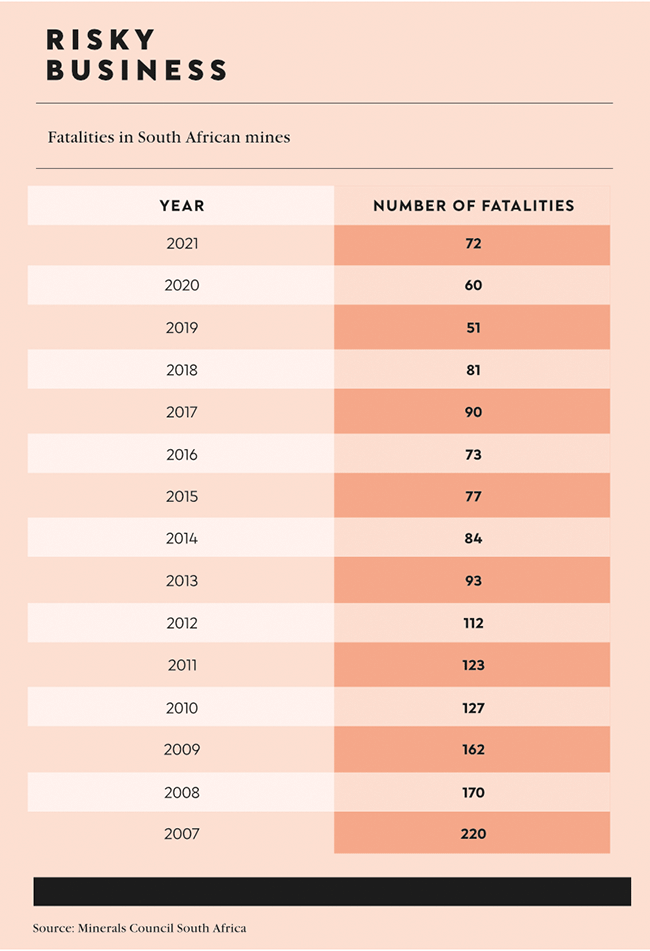 Mkhwanazi is not alone in highlighting technology's role in mining safety. In a 2021 online article, Filip Mestanov, industry and ecosystem manager of mining at Ericsson, and his colleague Kirsten Sym-Smith, director of business development, mining industry, write that 'it's no secret that mining is dangerous, difficult work. With heavy pieces of equipment constantly rolling and harsh conditions underground, mining is an industry where safety needs to be top of mind – all the time. Early warning is critical, and a fraction of a second in response time could mean the difference between life and death'. They add that although mining tends to be slow to adopt new digital tools, digitalisation is coming to the industry, with smart-mining operations projected to increase threefold by 2025.
Mestanov and Sym-Smith highlight private wireless (particularly 5G networks) as being an important part of the solution, as smart mining connects thousands of devices to create sensor networks that give operators access to real-time information. They say that 'the fact that 90% of mining deaths are caused by equipment underscores a need to support and enhance proactive maintenance practices. Private cellular networks allow real-time monitoring through connected sensors, which produce troves of data about mine conditions, equipment status and worker location, enabling operators to understand the historical, current and future state of mining equipment'.
A recent report by Magic Software supports this, estimating that 70% of machine malfunctions could be prevented by collecting and analysing machine data, thereby giving operators a chance to resolve safety issues before they happen.
Craig Franck, sales and operations manager at South African communications device provider Ya Batho, says that 'digital technologies are now "front and centre", with mines looking at semi- and fully autonomous mining capabilities. There has never been a stronger need for the industry to create modern mining solutions to improve remote working and continue to optimise its functionality, even post-COVID'.
Franck emphasises the value of wireless communication and real-time location in a mining safety context. He adds that as more data is made available from original-equipment manufacturers (OEMs), 'a reliable and scalable solution is imperative', so that mines can monitor and control the use of their assets and spares.
Ya Batho's YNSIGHT software platform provides a clear view of the location of materials-handling equipment throughout a mine and allows for automated reporting to show how those assets are being used. 'Mines want to make informed decisions based on real-time data, and Ya Batho makes the OEM machine-health and productivity data available in real time,' he says. 'Our motto is "data drives decisions". The ability to monitor the production fleet in real-time has proven to be beneficial.'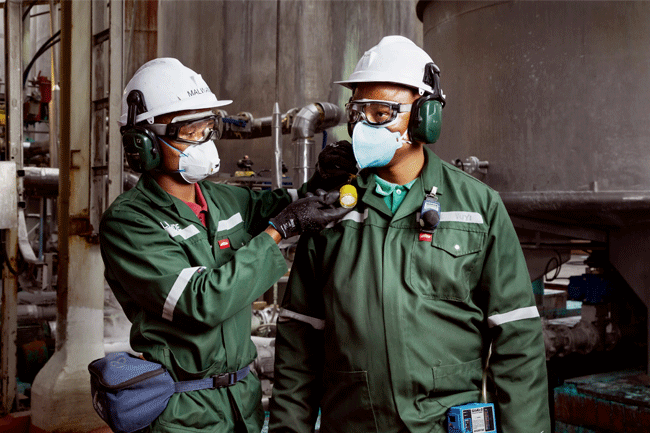 From a safety point of view, those benefits are enhanced when equipment monitoring is linked to proximity detection systems (PDS). Those technologies have advanced significantly over the past decade or so, with South Africa‑based Booyco Electronics among the pioneers. 'When we were established in 2006, PDS was an exciting technology helping address mining companies' heightened concern with health and safety – arising from incidents of collisions between vehicles and pedestrians on mines,' says Booyco Electronics CEO Anton Lourens. 'Our equipment began as essentially a pedestrian-detection system only, but has fast grown into much more powerful solutions for mines.'
Now, instead of just looking out for people, PDS technologies have evolved into completely integrated collision prevention systems (CPS) that keep an eye out for anything that could be driven into or knocked over. 'South Africa had also been leading the way with safety legislation, which encouraged the take-up of PDS technology in our local mining sector,' adds Lourens.
'This placed the country's PDS suppliers in a good position to put equipment into action in the field, and to continuously improve our solutions in response to real-life mining conditions,' he says.
Sean Bennett, head of technology firm NEXTEC, emphasises that PDS and CPS technologies are important because mining remains an exceptionally dangerous activity. 'Large machinery, massive weights, high energies and often-remote operations pose a vast array of potential threats. The more information we have about mining environments, operations, equipment and risk, the more safely and productively we can work. In a high-consequence area such as a mine site, knowing exactly where your people, vehicles, equipment and zones of danger are, and their condition, allows you to effectively manage risk and consequence.'
That level of safety is enabled by equipping machinery with CPS, and people with wearables (smartwatches, tags, backpacks and so on), which – as Bennett explains – 'broadcast their location, monitor them for signs of danger, fatigue or injury, and allow them to instantly request assistance'.
None of this, he says, would have been possible without breakthroughs in the reliability and effectiveness of connectivity on mining sites.
'Mining often takes place in remote areas, in the midst of inhospitable terrain,' he says. 'Mining sites are characterised by noise, dust, extremes in temperature, extreme weather events, magnetic fields and direct lines of sight obscured by millions of tons of rock and ore. On top of this, it's not sufficient for connectivity to work under these conditions sometimes.'


In an environment so fraught with danger, mining companies must draw on any resource that can help eliminate the risk of injury or loss of life. And as miners drill deeper, into harder rock, in search of untapped minerals, those conditions will only become more dangerous. Real-time monitoring, underpinned by robust connectivity, and analysed and managed by intelligent software systems, will become an operating necessity.
Speaking at that MineSafe conference, South Africa's Minister of Mineral Resources and Energy Gwede Mantashe expressed his disappointment at the industry's recent safety record. 'Surely we cannot say things are in order when the corrective measures that have been taken palpably demonstrate minimal impact as workers continue to die in this industry,' he said. 'One life lost is one too many. We must aim for zero harm in the industry. All employers should now walk the talk. We cannot condone poor compliance with mine standards as this leads to the loss of lives. Mining companies must take the necessary steps to save lives. Many of these incidents are repeats and they can be prevented.'
He called on the industry to 'go back to the drawing board and constantly focus on safety performance'. Fortunately, most of the industry is already doing so.
By Mark van Dijk
Images: Anglo American