New research by global accounting and business advisory organisation BDO has revealed that natural-resources businesses around the world are having difficulty attracting a new generation. The global survey, which captured the views of more than 750 natural-resources industry leaders and school and university students across Australia, Canada, Latin America, South Africa and the UK, found that Gen Z does not believe the natural-resources industry can provide what they want from a career. For example, just 15% of the Gen Z respondents said they would be very interested in a career in mining.
BDO's survey results also highlighted the importance of embracing diverse talent strategies. Sherif Andrawes, BDO's global head of natural resources, says the natural-resources industry faces 'unprecedented recruitment pressures'. He adds that 'the war for talent has significantly intensified. The need for fresh thinking and a robust talent pipeline has never been greater. At the same time, the attractiveness of a career in natural resources is being called into question by new entrants into the workforce'.
Andrawes says the results of BDO's survey also highlight Gen Z's concerns about job security and preserving the planet. 'To convince Gen Z that the natural-resources industry can provide these fundamental elements, industry leaders will need to address its cyclical boom and bust nature to demonstrate that careers in the industry are secure, as well as a vital part of the transition towards a green-energy future,' he says.


Africa's mining industry, like so many other industries, has its own set of challenges when it comes to talent acquisition, attrition and skills development. As such, mining companies make significant investment into skills development and talent management. They do this in various ways, such as learnerships, bursaries, portable skills (in mechanical, electrical and construction trades), internships and adult education.
Indeed, the Minerals Council South Africa (MCSA), in its latest Skills Development fact sheet, says that providing skills to employees is vital to the long-term success of the mining industry, contributing to improved safety and productivity, and opportunities for personal development, so that companies can both attract and retain suitable employees.
Skills development is also a vehicle for workplace transformation. Between 2016 and 2020, according to the MCSA, around ZAR6 billion was spent on skills development per annum; more than 15 000 tertiary education learners were supported by the mining sector over the four-year period; and at least 5 000 apprenticeships were undertaken.
Industry corporate leaders are also taking the initiative. Muhammed Patel, HR executive of operations at Implats, says that human-resources development is something on which the company spends a significant amount of time, effort and money. 'Group-wide we will spend just under ZAR1 billion for the upcoming business plan,' he says.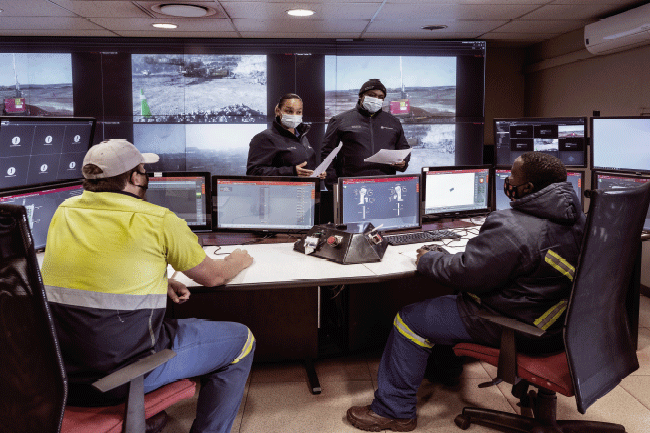 Patel explains that, from a strategic and organisational point of view, Implats has been focusing on leadership development, creating tailor-made senior- and management-level programmes in association with Duke University. The company has also been concentrating on the skills of its supervisors and middle management.
'We found that a lot of technical aspects of the job were well understood,' he says. 'But managing people and teams, motivating people and disciplining them, were key and critical elements that needed looking at for our supervisory level.' Over the past two years, Implats has also been rolling out culture training in the form of the Care and Growth model, partnering with leading institutions in South Africa to assist the initiatives looking at the social elements of culture and organisational effectiveness.
Patel believes that when it comes to employment opportunities, companies such as Implats offer an 'amazing value proposition'. Among the offering is a cadet programme, where youths from Implats' mine-host areas are given six months of training before being absorbed into the system as entry-level employees.
Various learnerships and internships, such as artisan training, are offered to the community over a three-year period, after which these individuals are absorbed into the company. There are also numerous bursaries available to qualifying students, with guaranteed jobs on completion of study. This investment is what brings the youth in, says Patel.
Implats also takes time over its employees' career development. 'Within the organisation we have career paths, where you can start at the bottom and make it up to CEO level. We've seen a lot of success stories like this,' he says. The company recently revamped its talent framework, with customised development plans for each middle-management employee. 'Each has an individual development plan that is tracked on a six-monthly basis, and linked to progress management and remuneration. That score determines their annual increase and bonus allocation.'
With Implats being an equal opportunity employer, Patel says the company recently launched a female employee value proposition. Currently, 12% of the company's employee base and 24% of management is female. Four of the critical positions on its exco are occupied by females, and half of the board – as well as the board chair – are female. 'It's something we are pushing significantly,' says Patel. 'We're positioning the company as a destination for women in mining.'
When it comes to attracting new talent, Patel says this requires consistent hard work. 'Mining has a bad reputation and we are continuously working on our brand, demonstrating to millennials the various initiatives we have in place and also promoting the mining industry. Within a South African context we don't struggle to get new entrants, but as the pyramid comes to the top, in top leadership roles and specific skillsets, then we struggle.'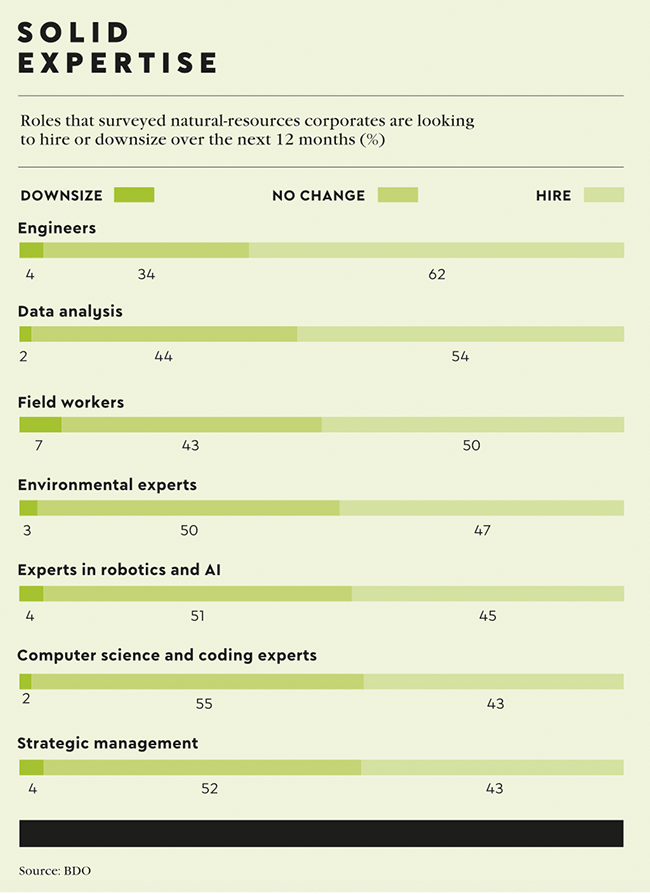 In its 2021 ESG report, Harmony notes that 'individual development is a social and business imperative to address dire skills shortages and the legacies of absent or skewed educational and training opportunities'. As such, it makes significant investment into skills development at all levels. During the 2021 financial year, 94% of the company's South African workforce attended training and skills development, at a cost of R468 million.
With a focus on effective leadership, Harmony's leadership-development programmes give all employees the opportunity to maximise their potential, so as to meet current and future business leadership needs, the company says. There has been significant progress since the inception of the programme in 2018, Harmony notes, with the leadership-development competency framework a key part of the company's initiative to better organisational efficiency and innovation. A total of 367 employees participated in leadership training during the period.
Harmony invested ZAR3.8 million in support of 121 employees undertaking various courses, diplomas and degrees, this forming a part of the company's talent-development programme. Harmony notes that the study-assistance scheme augments its people-development strategy, where all employees have access to developing themselves in formal education and training.
Cultivating new talent is also a focus for Harmony. There are 388 engineering-focused learners, with strong representation of historically disadvantaged persons, in Harmony's training-development pipeline. To align current talent-development plans with future leadership needs, Harmony invests in a graduate development programme for sponsored bursars in core disciplines, with 15 graduates enrolled for 2021. In addition, the company awarded bursaries to 119 students at institutions of higher learning in South Africa, at a total investment of ZAR17.2 million for the 2021 financial year. Harmony also collaborated with the Mining Qualifications Authority and secured 100% funding through its bursary scheme to support an extra 38 South African students. On completion of their studies, these students can then apply for Harmony's graduate-development programme.


Exxaro Resources spent ZAR276 million on training and development in 2021, including ZAR157 million on job-related operational and technical training; ZAR104 million on bursaries, internships, learnerships and skills programmes to secure its talent pipeline; and ZAR5 million on developing targeted employees in management programmes, leadership roles, postgrad studies and support functions.
Vanisha Balgobind, executive head of HR at Exxaro Resources, elaborates. 'Our reskilling and upskilling programme is aimed at closing gaps on knowledge and skills created by new digital and technology drives,' she says. 'We have a smart workforce initiative that focuses on new ways of training and development to support the transition towards the future of work. We have programmes related to diversity and inclusivity and focused training on ethics, anti-bribery and corruption.'
Exxaro also provides access to open-source learning platforms, and, with the hybrid work model, has focused on productivity, remote working and collaborative tools from Microsoft to enhance employee productivity and the employee experience. 'Our Connect2Next culture is to promote continuous learning where employees are encouraged to reskill and upskill for future required skills,' she says.
Balgobind says it is 'currently relatively easy' to attract talent as Exxaro consistently receives a high number of applications to advertised jobs. 'We attract new talent largely due to our strong employer brand in the industry and being certified as a top employer for the second year,' she says.
'The Exxaro employer branding on various platforms both online and print showcases the Exxaro employer value proposition relating to our striving for excellence in everything we do, our values, our culture, sustainability, as well as a strong focus on empowering the communities in which we operate.'
She adds that interest from millennials has not seen a noticeable drop, possibly because of the high unemployment rate. As a number of mining companies move towards supporting a low-carbon strategy, she says, 'it can be seen as an opportunity for the younger generations to be part of such a journey and make a difference, as well as talk to their sense of purpose'.
By Tony Muir
Images: Anglo American