Timmins in Ontario, Canada is a place of extremes. On the surface, the winter temperatures will chill your bones, averaging –15˚C on a good day. Go down into Glencore's Kidd Creek mine just outside town, though, and you'll drop 3 km underground, to where the miners work and the Earth's magma takes the ambient rock temperatures to a blistering 55°C. Australia's mines have similar extremes in heat, and as for Africa… The baking temperatures above ground on this continent are uncomfortable enough; when you dig down into its mines – and many miners now have to dig deeper to reach profitable deposits of minerals – the conditions become extremely hot, humid, damp and dirty.
Engines overheat, ventilation systems churn and miners struggle to breathe. Refrigeration systems can bring the temperatures down but they can't do much about the humidity. In Canada – far from Africa's searing heat – energy expenditures can make up as much as 40% of an underground mine's operating costs in some cases, with 80% of that spent on ventilation alone.
That's why there's a growing call from mining companies for equipment that's built to endure extreme conditions. ExxonMobil's new Mobil SHC Elite synthetic lubricant answers that call by helping to protect mining equipment operating at extreme hot or cold temperatures. The company claims that the product can deliver double the oil life of traditional synthetic products and up to 12 times the oil life of mineral products. 'It can also help protect equipment operating at temperatures up to 150°C in intermittent service, meaning it is ideally suited for use in a range of mining equipment, such as in the gears and bearings of excavators, haul trucks, augers and conveyors,' according to the company.

'Demanding loads and tough conditions mean that every component of mining equipment must be optimised and protected from extreme in-service temperatures,' says Emre Noyan, industrial marketing manager at ExxonMobil.
But nobody knows local conditions as well as locals do – which is why (over and above the import and foreign exchange cost concerns) more and more miners are looking to local manufacturers to offer solutions to uniquely local challenges.
The inaugural Local Southern African Manufacturing Expo, held in Johannesburg in May 2019, suggested that there is a receptive market for local products across sectors. 'The "local is lekker" ambience was really evident at the expo, with exhibitors and visitors thrilled at the opportunity to engage with each other and develop future supply chains and business ties,' Charlene Hefer, portfolio director for Specialised Exhibitions Montgomery, said in a statement after the event. The expo – which saw 3 743 visitors – included the two-day SA Mining Supply Chain Conference and Strategy Workshop.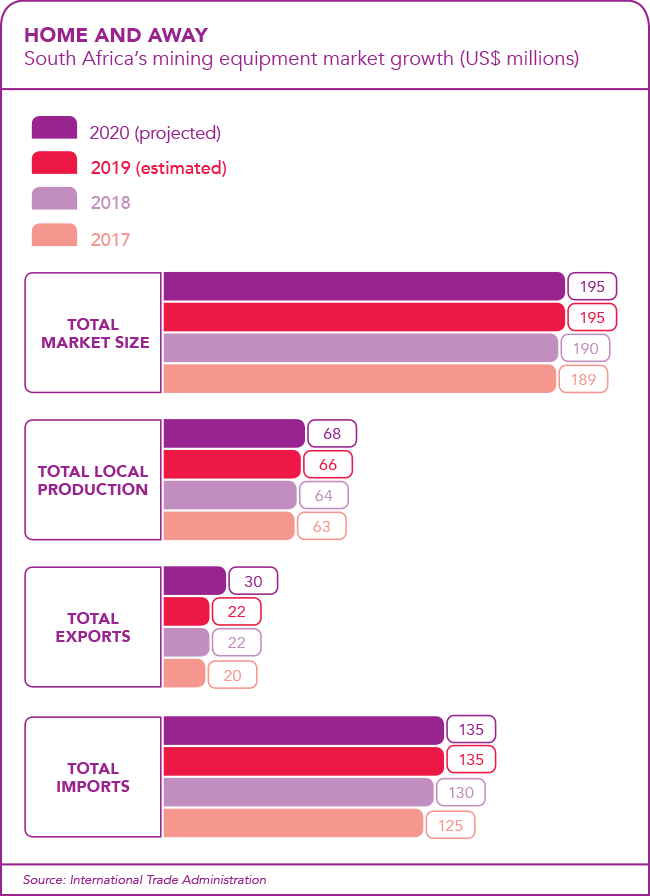 Much of the talk there was about South Africa's Mining Charter III, which stipulates that a minimum of 70% (by value) of mining goods must be manufactured or assembled in South Africa. This requires that at least 60% local content be used during the goods' manufacture or assembly. Goods must also be procured in line with a standardised product identification coding system developed by the Department of Trade and Industry, and all local content must be certified by the South African Bureau of Standards. The cost of the latter may be covered either by the mining right holder or by the supplier. And while the Mining Charter may direct the industry to build and buy local, many original equipment manufacturers (OEM) already believe that doing so simply makes sense.
According to Kim Schoepflin, CEO of South African screening equipment manufacturer Kwatani, mines should work closely with OEMs that are in a better position to develop a bespoke solution that is suited to the technology and its operating environment. Schoepflin explains that Kwatani has complemented conventional condition-monitoring practices with advanced testing and measuring technology. 'This assists our customers in achieving a continuous supply of quality production tonnage, while protecting company assets and reducing the total cost of ownership of their plant and equipment,' she says. Kwatani continuously refines its monitoring tools, drawing on the thousands of vibrating screen and feeder installations it has completed at mineral sands, coal, gold, diamond, platinum, iron ore and manganese mines throughout Africa.
But while it's important to manufacture mining equipment in Africa, what's even more valuable is equipment that is designed and developed specifically for use in African conditions. That's what makes two new rock drill prototypes, unveiled in November 2019 by South Africa's Mandela Mining Precinct, so significant.

Both were developed by South African companies, following an open innovation challenge issued by the precinct in 2018. As Mandela Mining Precinct programme manager Martin Pretorius explains, 'the Isidingo Drill Design Challenge was launched with specific industry criteria detailing what is needed to improve efficiencies and reduce harm at the mining face, hence the name Isidingo' [isiZulu for need]. The precinct hailed the challenge as the first initiative for developing local solutions to a local problem.
Local companies Novatek and HPE were eventually selected to develop the drill prototypes – and both admitted to finding the balance between weight and robustness to be the most challenging part of the development process.
Novatek's Buffalo drill uses a spring, shaped like a buffalo's horns, to deliver strength, accuracy and speed. 'We needed the drill to be as light as possible but still robust, and this was not easy,' Novatek MD Julian Wills said at the launch. 'Our strengths lie in hydropower and stope drilling rigs, and we are guided by the development of appropriate technology. This is part of our internal value system advocating for technology that must be appropriate for the type of mining, the infrastructure, the resources and the skills of the end-user.'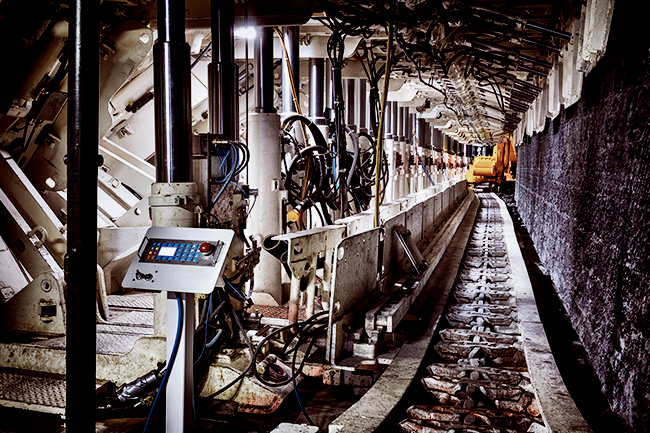 Meanwhile, HPE's system allows for three ways of drilling – either with a hole guide puller, or a stope drill jig, or in a conventional manner with a thrust leg – at any angle and for any application. 'Once the first hole has been drilled, the hole guide puller repeats the process and guarantees correct burden spacing, parallelism and in-line thrusting,' says HPE director Ulrich Kienle.
'An important aspect of the HPE way is that any concept must be safe, cost viable and meet all set KPIs,' adds Kienle. 'If these regulations cannot be met, we do not have a product. We believe that being able to produce a high-performance and robust new drill is a game changer for our industry.'
It could also provide opportunities for exports. After all, while some mining conditions are specific to certain geographies, there are also similarities between different regions. Gauteng-based OEM JA Engineering Works recently demonstrated the overlaps between South African and Australian mining conditions, when its remote-controlled Wildcat JAE42A continuous miner was shipped to a client in Queensland. 'It certainly shows that the Australian mining industry has gained a lot of confidence in our ability,' JA Engineering Works CEO Danie van Wyk told Mining Weekly. The Wildcat – known to its makers as the Big Green Machine – has 90% local (South African) content and boasts 400 kW of cutting power.

That's enough to cut through South Africa's notoriously hard coal. It should be more than enough for Australia's softer coal environment.
The global market for mining equipment is growing steadily, with a recent report by Zion Market Research highlighting a CAGR of about 5% between 2018 and 2024, by which point revenues are expected to reach US$98.5 billion.
That report notes that the Middle East and Africa are anticipated to show a sustainable rate of growth in the mining equipment market, driven by a rising demand for mining equipment by the region's petroleum industry and by the lucrative growth opportunities of the region's still untapped mining exploration areas. Who better to provide the equipment for those projects than the people who know the land best?
By Mark van Dijk
Images: Gallo/Getty Images