Costly rescues of people trapped in disused mine shafts, brazen daylight gun battles, raging fires resulting in terrible deaths in abandoned underground workings… These are just some of the headline-grabbing signs of flourishing illegal mining around South Africa's decades-old mines.
At one end of South Africa's mining spectrum are globally listed, multi-billion-rand mines, which have to comply with an onerous burden of legislative compliance covering everything from health and safety to environmental care and black empowerment. At the other end of the spectrum are illegal miners, often part of syndicates with links to global organised crime, who extract and process minerals with no regard for the consequences, including loss of life.


The impact of illegal mining has grown in the past decade, as a result of an influx of foreign migrants to the country, massive retrenchments and closures of shafts by hard-pressed South African mining companies, a lack of local job opportunities, inadequate policing and rising levels of bureaucratic corruption. Although short-term measures are being taken by South Africa's mining companies and law-enforcement agencies, and there is some agreement on what should be done in the long term, there is no comprehensive solution in place yet.
According to the UN Interregional Crime and Justice Research Institute (Unicri), in a 2016 report on security in the precious metals supply chain, artisanal and small-scale mining (ASM) generally refers to labour-intensive exploitation of marginal or small deposits by people with no access to capital or support services.
Analysts refer to five tiers in an (illegal) ASM hierarchy: the miners; the gangs/bosses that recruit; international intermediaries and buyers; bulk buyers and front company exporters.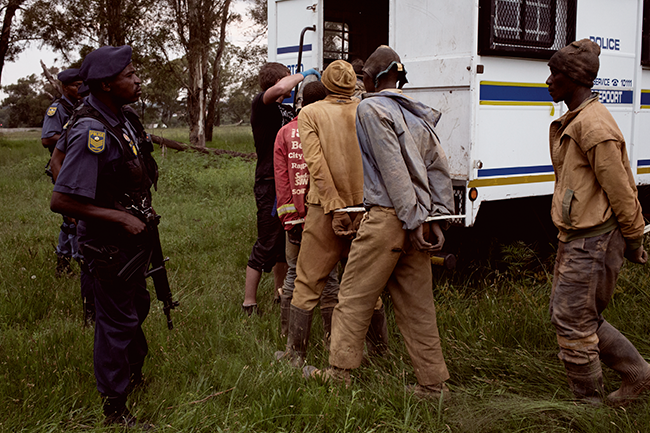 The Institute for Security Studies estimates that there are about 30 000 illegal miners in South Africa, whose activities cost the economy about ZAR21 billion a year. The Minerals Council South Africa (MCSA) argues that 70% of the country's zama zamas (the isiZulu name for illegal miners, meaning 'to take a chance' or 'try your luck') are undocumented foreigners.
Gold and platinum miner Sibanye-Stillwater says one of the misconceptions about illegal mining is that it provides a living for the poor and unemployed. But it does so by threatening the viability of legal mining. It also has side-effects such as increased incidences of bribery, trespassing and corruption, human trafficking, assault, murder and robbery. It causes a lot of damage to the environment such as unsafe tunnelling and soil erosion, as well as contamination of dams, reservoirs and underground sources through the use of harmful chemicals.
By February 2018, Sibanye-Stillwater, which was experiencing a growing number of incidents involving illegal miners around its operations near Carletonville, said it had removed most of them. In 2017, around 1 400 people were arrested in a series of raids dubbed 'ZeroZama@Sibanye-Stillwater'. This left an estimated 40 to 50 still operating across its Kloof and Driefontein operations.
James Wellsted, Sibanye-Stillwater's senior vice-president of investor relations, said that between January and November 2019, 390 illegal miners were arrested. In an indication that controls were working, far more illegal miners were arrested in attempts to access underground workings than in 2018.


Wellsted said in April 2019, when Sibanye-Stillwater was experiencing a wage-related strike, most of the security contingent had been diverted to manage it, and there was a discernible increase in illegal mining. The situation was rectified when the strike ended.
Sibanye's approach has involved tightening mine security, comprehensive employee screening, and co-operating with numerous other bodies such as the South African Police Service (SAPS), MCSA and the Department of Mineral Resources and Energy (DMRE). Wellsted said effective measures that had helped block illegal miners from going underground included enforcing physical access controls at all production shafts and securing closed and redundant shafts and ventilation outlets. Access control and deployment of security teams have contributed to disrupting and arresting illegal mining underground. But an ongoing issue, where most of the current efforts are being directed, remains collusion between illegal miners, employees and contractors.
Pan African Resources has battled for years to counter illegal mining at its Barberton mines, a 100-year-old complex, in particular at Sheba mine where there are about 120 adits providing access to underground. In its 2019 annual report, the company lists illegal mining and heightened criminal activity as its second-biggest risk after electricity interruptions.
According to CEO Cobus Loots, the lack of economic progress is encouraging illegal mining. As a result, the group almost doubled the amount it spent on security in 2019 to US$7.2 million from US$4.2 million in 2018. In the year to June 2019 about 2 900 people were arrested at Barberton mines for theft of gold-bearing material and other items such as copper cabling.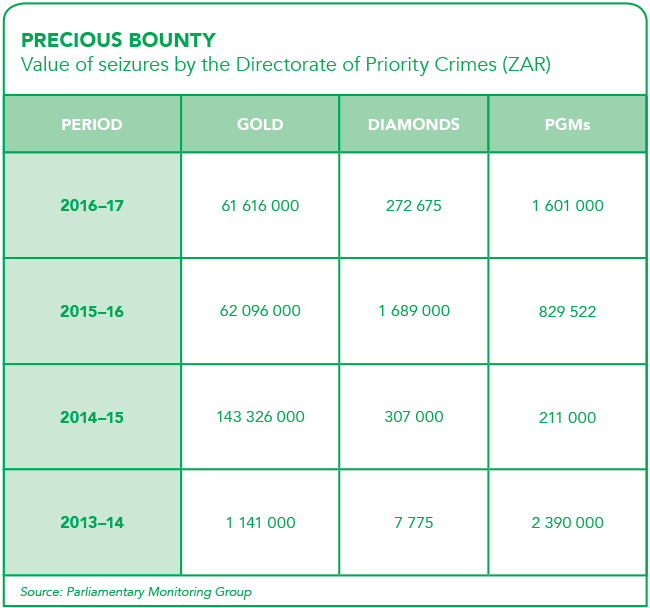 Pan African has also experienced illegal mining at its Evander shafts, after closing large-scale underground operations and retrenching a number of people in the 2018 financial year. It has closed access points to old mine shafts to limit entry. 'We have expanded our security team, introduced a new integrated security strategy that includes the increased use of modern technology, and adopted a multifaceted approach to better identify and counter criminality,' says Loots.
'We can, in the normal course, protect our operations at a cost, but illegal mining and its effect of unsettling communities and adversely impacting mining economies is beyond the scope of mining houses to resolve on their own,' according to him. 'All resource-rich African countries are being impacted by illegal mining activities and an effective push-back requires policy, resources and co-ordination at government and inter-government levels.'
Pan African's costly security measures include appointing a senior executive to oversee the function, using technology to impede illegals and improve responsiveness, improving co-ordination with law-enforcement agencies, appointing dedicated security managers at each operation and developing IT systems. Linked to these steps are ongoing efforts to uplift local communities.
In 2017, Petra Diamonds, its then joint-venture partner in Kimberley, Ekapa Mining, and local stakeholders, agreed to open up an old area, covering 600 ha, for reworking by ASMs in a legal, regulated manner that met the Kimberley Process. It was an effort to address ongoing trespassing and theft on the companies' properties by illegal miners.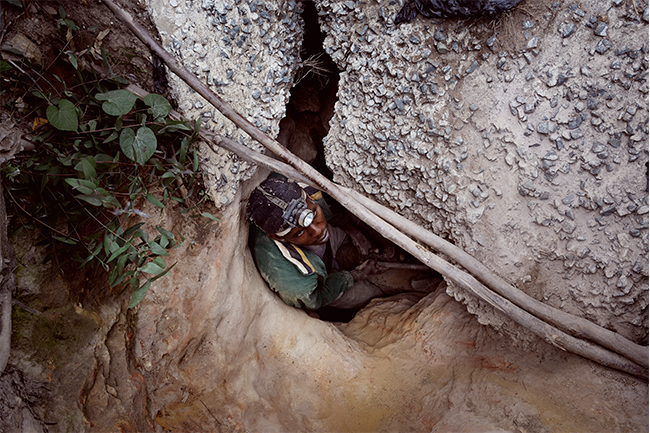 Initially this was hailed as a breakthrough in tackling the problem. However, a year later Ekapa Mining reported it was still having to spend ZAR3 million a month on security as a third force of illegal miners had invaded the area and was trying to take control of it.
In October, Petra Diamonds said it would take lessons learned from the Kimberley experiment to its Koffiefontein mine, where it has opened up an old tailings dam to small-scale miners.
More than a decade ago, the MCSA spearheaded the formation of a multi-stakeholder National Precious Metals Forum (NPMF), with representatives from mining companies, SAPS, the South African Diamond and Precious Metals Regulator, Rand Refinery and the National Prosecuting Authority. The NPMF was replaced in 2014 by the National Co-ordinating Strategic Management Team (NCSMT).
The broad view that government and industry appear to agree on is that a legitimate small-scale mining sector could be managed through specific legislation at the same time as more effective steps are taken against the criminal elements. This would require tightening existing criminal laws, with a particular emphasis on the downstream beneficiation and international marketing levels of the hierarchy.
Section 27 of the Mineral and Petroleum Resources Development Act (MPRDA) provides for a sub-industrial-scale mining permit. This permit still has financial and environmental requirements that are likely to be impossible for those making a marginal living to meet. But mining activities cannot be miniaturised below a certain level without harmful effects on health and safety and the environment. There's no agreement on how small or unregulated a legitimate mining operation can be.
The MCSA says it supports regularising ASMs if it can be done safely, in an environmentally responsible manner, and without endangering people, including employees of legal mining companies. It should also be done in a way that does not encourage more illegal mining. It suggests that the DMRE look at simplifying the process for small-scale miners to apply for permits. It points out that the MPRDA does not allow for artisanal miners but if they were to be brought within the regulated framework, they should be limited to surface mining, and artisanal miners should have to comply with health, environmental, financial, social and labour plans, and municipalities' integrated development plans.


The MCSA says artisanal miners should be legally resident in South Africa or have valid work permits. There should also be formal channels for selling and beneficiating their product.
At the 2019 Mining Indaba, Mineral Resources and Energy Minister Gwede Mantashe said the NCSMT had adopted a three-pronged approach on illegal mining. It was promoting legitimate mining practices through the authorisation of mining permits, sealing the entrances of derelict mines and working with law enforcement agencies. He believed the impact was already evident in the increase in mining permit applications to more than 500 in 2018 from 330 in 2017.
Alan Martin, author of a report in April 2019 sponsored by ENACT (Enhancing Africa's Response to Transnational Organised Crime), a project funded by the EU, argued that South Africa's current responses that criminalised illegal miners were misguided and ignored socio-economic drivers. He said illegal mining should be regarded as artisanal activity within large-scale mines, not separate from them.
Martin said the failure to respond effectively lay partly with the constant change of South Africa's mineral ministers and the MPRDA. The act laid the responsibility of monitoring scrap metal dealers on the South African Diamonds and Precious Metals Regulator, which was 'disinclined' to carry out this function. Martin recommended that South Africa should implement the global measures that govern conflict minerals; the MPRDA should be overhauled to define the difference between artisanal and industrial mining; and licensing, monitoring and investigating permit holders should be done by SAPS.
Steps to keep illegally mined gold from entering the chain are already being taken. Rand Refinery protects its supplies, so it only buys gold from large-scale mines with which it has long-term contracts.
The Unicri report also discusses gold/platinum fingerprinting as part of the solution. Through laboratory analysis and comparison with samples it is possible to identify the shaft from which the precious metal was mined, and even whether it was processed by a legitimate refinery or an artisanal miner (the latter has more impurities).
So far, South Africa has accumulated a database of 2 500 samples. But there are still a few challenges in implementing precious metals fingerprinting, particularly in widening the database.
By Charlotte Mathews
Images: Gallo/Getty Images