The Free State's miners and farmers are not on the best of terms right now. In December 2021 an evaporation dam at a Sibanye-Stillwater mine near Welkom breached its walls, flooding – and polluting – valuable grazing land. Then, in September 2022, the dam wall at a De Beers mine near Jagersfontein collapsed, releasing tons of sludge into neighbouring rivers, homes and farmlands. Two people died, scores were injured and more than 200 were displaced.
The damage in Jagersfontein was so extensive that it could be seen from space. Images released by NASA's Earth Observatory told a dramatic visual tale of the how the mining industry's water stewardship can both help and harm its communities.
'Water is fundamental for our operations and the communities around us,' Anglo American's then-CEO Mark Cutifani said at the group's sustainability performance update in April 2022. Anglo aims to reduce its freshwater usage by 50% by 2030, with one of its flagship initiatives being an integrated water-supply project for its Los Bronces copper mine in Chile. 'A win-win for us and our host community, the project involves the replacement of most of our current freshwater needs with treated municipal wastewater in a unique swap agreement that delivers fresh water to the local community while we instead use water not suitable for human consumption,' said Cutifani.
The Los Bronces project is not entirely altruistic in nature. Anglo's request for an extension of its mining permit at the site was rejected by Chile's environmental permit evaluator, amid wide criticism of the US$3.3 billion project's impact on water availability in the capital Santiago. Large parts of Chile have been the grip of a catastrophic drought since 2010. However, the project does highlight an awareness among miners of the need to better manage, monitor and conserve their water resources.
'Water is ever present in mines,' says Chetan Mistry, strategy and marketing manager at Xylem Africa. 'Mines are either removing water, or using water to manage the site such as reduce dust, combat fires or move slurry or tailings. Wells and pumps are commonplace on mining sites. So, mines know how to work with water. They can apply new water-management principles and technologies more readily than most other sectors and see the benefits more quickly.'
Mistry suggests five avenues that mines can explore to improve their water management. These cover new technologies, including AI-enhanced smart sensors and monitoring equipment; efficient processes, such as digitally managed chemical dosing; water reuse; water recycling; and seeking alternative water sources through desalination, damming and raw seawater.
Efficient processes, reuse and recycling present opportunities for mines to work with neighbouring communities – including, perhaps, those beleaguered Free State farmers – and to protect the waterways that serve local communities.

'By leveraging AI, mines can reuse water intelligently for specific processes such as minimising water intake, tailing storage and effluent discharge volumes – thus hugely reducing overall consumption,' says Mistry. 'Improvements in using water to transport waste, extracting water from tailings ponds, and capturing water at seepage spots, also deliver significant savings.'
The change couldn't come soon enough. In mid-2022 the Mangosuthu University of Technology (MUT) published a study that found evidence of toxic wastewater and acid mine drainage (AMD) in the Krugersdorp mining area, including the Krugersdorp game reserve.
To that end, the Council for Scientific and Industrial Research (CSIR) has developed a zero liquid-discharge technology, which minimises the ecological footprints of AMD. 'AMD has been a thorny issue in South Africa for many decades and continues to contaminate both freshwater sources and the environment,' according to the CSIR.
'Acid mine drainage is a direct result of the weathering of sulphide-bearing minerals during and after the mining of valuable minerals, such as coal and gold. These hazardous chemicals have a direct effect on living organisms and the host environment; hence the urgent need to contain and mitigate the risk of contamination.'
Conventional technologies to treat AMD often relied on a lime and filtration technology that generated toxic sludge. The CSIR's patented new technology uses magnesite softening reverse osmosis to recover valuable minerals at different stages of the process. 'Its efficiency as a means of converting waste streams into an environmentally friendly resource has been demonstrated over five years,' it states.
Meanwhile, in South Africa's Northern Cape, dual-listed miner Orion Minerals announced in late 2022 that it was trialling water-treatment technology at its Prieska copper-zinc mine, with the intention of sharing valuable agro-nutrients with its neighbouring farmers. While located in the otherwise dry, red-sanded nothingness of the Karoo basin, Prieska sits on the banks of the Orange river, and the mine's underground workings hold about 9 million m3 of water.
According to Orion Minerals, the pH of this water ranges from 6.6 to 7.1, while the total dissolved solids in the shaft water measure 6 000 mg to 11 000 mg per litre – so some water treatment is required before it can be used for agricultural or potable purposes.
'As we prepare to start dewatering the underground mine at the Prieska mine, we continually review engineering and technology solutions to find ways of reducing costs and maximising ESG outcomes at our operations,' according to Errol Smart, Orion Minerals CEO.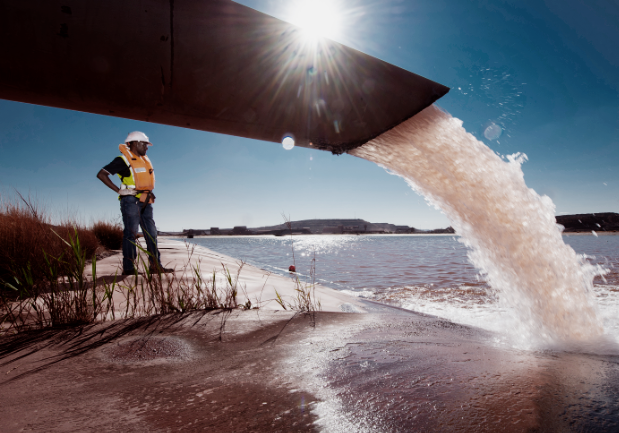 'Any technology or new process that offers benefits to our key stakeholders and local host communities while supporting shareholder returns will always be prioritised in our operating plans.'
Orion hopes to use Free Radicals Process Design's Electrosoftner/Rotowinner electro-chemical water-treatment and mineral-extraction technology, which uses a combination of reverse osmosis and electrolysis to extract minerals from the mine-shaft water.
This should yield both clean water and valuable mineral products, including sodium hydroxide and iron oxide (used in the chemical industry), as well as calcium and magnesium (used in agriculture).
'We look forward to trialling the Rotowinner technology to treat our Prieska mine water while simultaneously recovering "clean and green" agricultural nutrients and delivering treated water that would be available for community agriculture purposes,' says Smart.
'In addition to agricultural nutrients, other products can potentially be extracted using the Rotowinner technology that are used in the chemical industry, opening up interesting future by-product sales opportunities.'
This speaks to Mistry's point, that recycled water can support on-site personnel, supply local communities, be safely re-introduced into the environment, or be stored for later use. Projects such as these go some way to changing the complex relationship between mines, their neighbours and the water all parties need to survive.
'New enhancements such as data-driven planning, remote control of water infrastructure, smart pumps, and modular treatment systems such as ozone provide mines with a wider range of options on how to manage their water consumption and reuse,' according to Mistry. He adds that these technologies are already making a difference for mines in the most rural and driest parts of the planet.
'Overall, this is a terrific time for mines to use water stewardship to improve their prospects. There are many great options for mines that care about water conservation and savings. It's a massive opportunity for the industry to enhance its place in the 21st century.'
By Mark van Dijk
Images: Gallo/Getty Images, Anglo American