South African mining and quarrying equipment specialist Osborn is celebrating its 100th anniversary in 2019. In a sector with many challenges – from declining global commodity prices and constant productivity pressures, to inferior, low-cost equipment flooding the market – not many suppliers remain in business long enough to celebrate their centenary. Osborn has stood the test of time by consistently focusing on quality and relationships.
Founded in 1919, Osborn is today a leading manufacturer of equipment for the global mining and quarrying industries. The company's expansive range of high-quality, hard-wearing products includes crushers, feeders and screens. It has one of the largest, most modern manufacturing facilities in South Africa, and a skilled and knowledgeable sales and service force. 'Attention to detail and commitment to meeting our customers' needs, together with our long-standing reputation for quality machines and service excellence, is what sets us apart,' says MD Johan Goosen. 'Over a century in business, we have forged rock-solid relationships with satisfied customers around the world.'
Goosen believes in an entrepreneurial approach to business that is founded on a customer-focused philosophy. 'Our unrivalled machines are successfully operating across the globe in the most arduous conditions. Our reputation for reliable and well-supported products has been the driver behind our ever-increasing global footprint.'
A commitment to continuous improvement is integral to Osborn's customer-centric approach. 'While we are proud of our many decades of experience and expertise, we at Osborn are always ready to leverage new technology and industry developments that can enhance what we do and how we solve our customers' challenges,' he says. 'We are committed to continuous improvement and we strive to constantly improve and innovate to most efficiently meet our customers' needs.'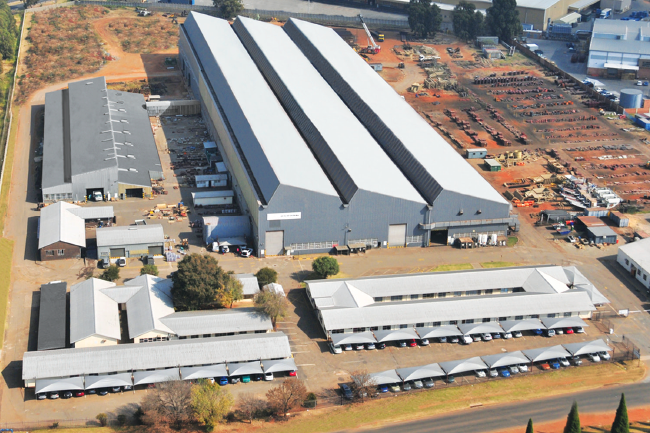 He emphasises that over the past century, Osborn has grown substantially, but that the business still offers the same individual attention and personalised service to every customer. 'Meeting the specific needs of each customer is a priority. Whether we are delivering a bespoke solution or a standard Osborn machine, our aim is to ensure our customers' expectations are met on time, every time. 'For our customers, purchasing equipment from Osborn is only the start of a long-term relationship. Our on-call spares and service department operates 24/7. Our field service includes site and machine evaluations as well as on-site training for customers' staff. Our qualified field service personnel ensure global coverage,' says Goosen.
Osborn boasts a comprehensive, national distribution network, with international agents in strategic locations to ensure worldwide backup for Osborn equipment. The company has long-established exclusive licence agreements with major international principals such as US-based Telsmith and KPI-JCI. 'In association with these partners and our network of agents and distributors, we supply their world-renowned equipment to mining, quarrying and industrial markets across Africa,' says Goosen. 'We also supply genuine OEM spares for these leading global brands.'
Osborn is a member of the US-based group, Astec Industries. 'This valuable connection delivers exceptional benefits to Osborn customers as it augments our resources with the Astec group's extensive technologies, equipment, research and development, enabling international knowledge-sharing and the transfer of skills,' he says.
Quality, health and safety are integral to all of Osborn's business operations. 'We operate in strict accordance with national and international standards. We are uncompromising when it comes to the safety of our employees and our customers, and we are committed to sustainable, environmentally conscious business practices,' says Goosen. 'Transformation and the advancement of previously disadvantaged South Africans has been prioritised by Osborn, and to this end, we have established an employment equity policy through which we assist individuals within a structured programme and against set targets. In addition, we choose suppliers and subcontractors from small, medium and micro enterprises and black empowerment companies wherever possible.'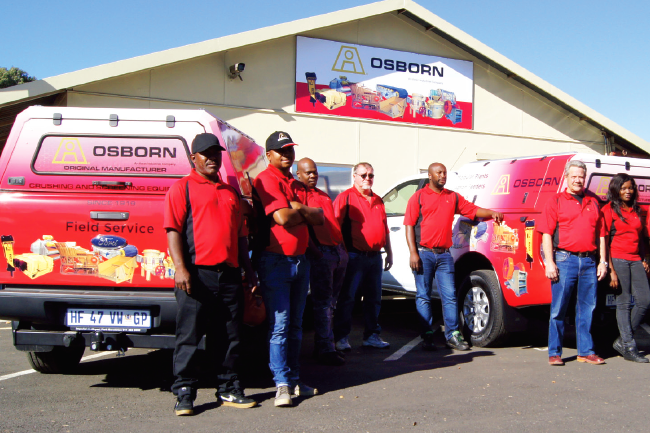 Upward trajectory
The company was founded in 1919 as Samuel Osborn South Africa, a subsidiary of a Sheffield England steel company that sold special steels for industry and mining in South Africa. The business evolved into several divisions, including the Samuel Osborn Engineering Division, which began its crushing and screening business in the late 1940s. Osborn has been in its current premises in Elandsfontein, east of Johannesburg, since 1978. The operation then consisted only of a small fabrication shop and adjacent offices. 'It was less than a tenth of the size of the large, modern manufacturing facility that Osborn operates in Elandsfontein today,' according to Goosen. 'Today, Osborn Engineered Products SA is recognised as a leading South African manufacturer of bulk materials handling equipment for the mining and aggregate industries. We are proud of our 100-year history and poised for a bright future.'
Crushing the competition
As South Africa's only manufacturer of large crushers, Osborn is the supplier of choice for operations aiming to ensure that they are compliant with the newly legislated Mining Charter. 'Osborn's robust, high-quality crushers have made their mark around the world. Proudly South African-manufactured Osborn crushers are operating successfully in Azerbaijan, China, Kazakhstan, Russia and Yemen, to name a few far flung sites, as well as closer to home at operations within South Africa and around the African continent,' says Goosen. 'In light of the latest Mining Charter requirements, as well as our unrivalled manufacturing expertise, vast experience and world-class technology, Osborn is the obvious choice for the supply of crushers to the local mining sector.'
Osborn's extensive line-up of crushers includes a complete range of single- and double-toggle jaw crushers, Gyrasphere cone crushers and modular crushing plants. The company's jaw crushers – available from laboratory size (100 mm x 150mm) to 1 500 mm x 2 000 mm – are used in a diverse range of processing applications, from coal mines and stone quarries to manganese and chrome mines. Osborn's Hadfields 80 x 60 single-toggle jaw crusher, which weighs 140 000 kg, is one of the largest manufactured in the world, and has found its niche primarily in opencast mining operations throughout Southern Africa. It is also firmly positioned as the primary crusher of choice in the African coal industry, handling up to 2m x 1.5m feed size with throughput in excess of 1 600 tons per hour.