Afri-Tech is a leading cloth supplier within the liquids/solids filtration industry. Its core business operations revolve around the supply of linear screen cloths, vacuum belt filter cloths and belt press belts. Striving, however, to constantly grow and evolve, Afri-Tech invests heavily in research and development projects – nurturing innovation and encouraging its team to find new, exciting solutions for an array of issues its clients face. This has seen the company undergo a natural migration towards ancillary spares, including the innovative Power Nozzle. Afri-Tech's Power Nozzle was highly recognised at Electra Mining Africa 2018, receiving the South African Innovation award as well as the Overall Innovation award from the judges, who represented the South African Capital Equipment Exports Council and event organiser Specialised Exhibitions Montgomery.
Power nozzle principals
With water being a scarce resource, more companies are using recycled water for many processes. 'Water efficiency' and 'zero water usage' have becomes buzz terms – the latter involving mine water being recycled and reused in a closed loop system. With the constant recycling of 'process' water, however, there are often suspended solids present in the water, causing blockages in conventional spray nozzles. To clear these blockages, machinery shut-downs and lockouts are required, which incur labour, time and production losses.
Afri-Tech's Power Nozzle, however, is designed for use with water that has a certain amount of suspended solids. Through technological advances, the nozzle has been designed and refined to automatically eject any debris interrupting the spray pattern at set timed intervals, after which it returns to the standard spray pattern.
The Power Nozzle encourages the use of recycled water by ensuring that it remains clear of blockages during operation. Intense and expensive purification of water is therefore not required, saving clients money on equipment, maintenance and chemicals in often extensive and complicated cleaning processes.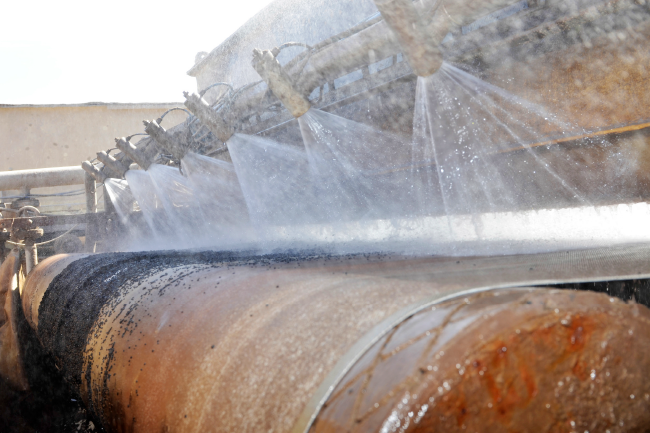 Afri-Tech considers water recycling an extremely positive move by the sector, and the Power Nozzle is its contribution towards facilitating and encouraging more industry leaders to follow suit and implement recycling practices as a standard. The goals defined in the concept stage of the nozzle include creating a cost-effective product that facilitates and encourages good environmental practices. The result is a highly effective unit that is completely South African – having been designed, tested and refined in-house over a three-year period.
Epitomising simplicity, the Afri-Tech Power Nozzle is effective; easily serviceable; affordable and automatic. In addition, it reduces production loss and is designed to stand the test of time.
Areas of installation
Vibrating screens
Linear screens
Vacuum belt filters
Flotation cells.
Screen and filter cloths
Afri-Tech is the top cloth supplier in the African market – supplying high-quality linear screen cloths and belt filter cloths. The range consists of polyester linear screen cloths, double-layer polypropylene cloths, double-layer polyester cloths as well as single-layer mono-filament cloths and spiral belts.
Its complete product offering combined with a unique clipper seam arrangement and extreme short delivery times has made the company a firm favourite of many end users, OEMs and procurement companies. Exports into Africa as well as Australia and other countries in North America and Eastern Europe have propelled Afri-Tech into a globally recognised filter cloth supplier.
More than simply filter cloths and sprays
Afri-Tech also manufactures ancillary spares for linear screen machines and vacuum belt filters. Rubber-lined rollers, tracking units, wear belts and, recently, the Leiden tracking valve are among the range of spares that Afri-Tech is able to supply. With these quality products included in its product offering, Afri-Tech provides its clients with everything they require to run their machinery efficiently and productively.
More than 10 years of experience have taught Afri-Tech that, in this specialist sector, it's important to be surrounded by – and learn from – the industry's top experts. With no signs of slowing down and a mantra of 'quality; service; customer satisfaction', the company is well on the way to becoming number one in the industry.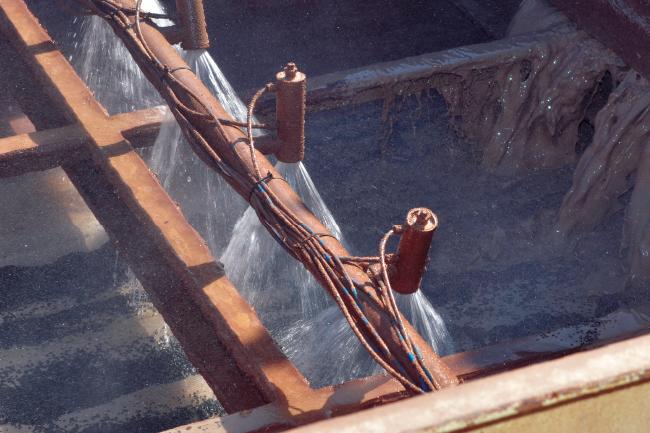 Quality
At Afri-Tech, 'quality' means striving for quality materials; quality people; quality processes; and quality products. The stringent quality-assurance process has been designed to eliminate error – making perfection a way of life and not a destination. As an experienced and knowledgeable artisan would say: 'Measure twice, cut once.' This is certainly true for Afri-Tech's manufacturing facility, which has two measuring methods, manual and electronic. Measure twice, cut once. With its electronic measuring devices Afri-Tech is able to achieve accuracy of within 1 mm.
Service
Keeping service levels high, Afri-Tech has built a reputation of being the go-to people for all that is screen and filter cloths. The company offers a 48-hour breakdown delivery service, free inspection service and free corrective action advice once the inspection is complete. These complimentary services have assisted in achieving customer satisfaction rates of 98%.
Customer Satisfaction
Afri-Tech knows that with quality and service, customer satisfaction is achievable with little effort. When it comes to customer satisfaction it has accomplished this over and over again. Afri-Tech has a vested interest in its clients' businesses and it strives to keep their operations running. Therefore, it offers a 48-hour breakdown service for common cloth supply.
Client base
Afri-Tech has built up an excellent reputation over the years with major industry players becoming loyal clients. Gold, platinum, mineral sands, zinc, copper, cobalt, gypsum, phosphoric rock, mineral sands, flue gas desulphurisation, iron ore, nickel, wastewater works, food, beverages and many other industries look to Afri-Tech for assistance and recommendations for the right cloth – for the right process.