Measure twice, cut once. It's an old carpenters' proverb but it's as true in an open-pit mine as it is on the woodworker's bench. Every aspect of mining depends on accurate measurements, from up-to-date information about the areas and volumes already mined to a pin-point representation of the surface and underground situation on mining plans.
In late 2013, China's Shandong Gold Group announced that it had completed a 3D laser scan of one of its underground gold mines. The project took a full year, with 20 km of major tunnels located 650m below the surface captured using a Trimble FX 3D scanner. The tunnels were narrow, ranging from 6m to as tight as 3m in width. The scans, however, offered millimetre-level accuracy. Each single-pass scan took less than five minutes, yet resulted in 65 million points in a 360° x 270° full-field view. The result was a digital mine that allowed for more accurate planning and designing, better checking of production quantities, more detailed monitoring of the necessary tunnelling and mining machines and improved safety. With the measuring done, the cutting could begin.
In mining, as in carpentry, you measure all the time. Mine surveying must be done throughout the mine's life cycle, from the planning stage to construction, operations, production and reclamation. Yet, strange as it seems today, as recently as 40 years ago most of those measurements were taken by pulling a tape. Electronic distance measurement, theodolites and total stations changed all that, improving the accuracy of point-to-point measurements and revolutionising the surveying industry.
Now global positioning instruments and robotic equipment are driving another revolution. The environmental conditions in underground mines are immensely challenging – cramped, dark and either blazing hot or bone-chillingly cold. During the scanning project in Shandong, for example, the recorded temperatures ranged from 5°C to 45°C. This makes automation even more attractive. After all, why would you send a human surveyor down there when much of the work could be done – safer – by a robot or a drone?
There's a lot of hype around drones (unmanned aerial vehicles, or UAVs) at the moment, especially in the mining industry. But that hype – it's worth restating – is well deserved. Balvinder Kumar, Secretary of India's Ministry of Mines, laid out the case for drone technology in a recent interview with the Indian Express. 'Now if a mining plan has to be prepared for a 100 km2 area, the drone can do a broad survey of the whole area, along with its geology, within eight or 10 days. The same work, if done manually, takes two to three months,' according to Kumar.
Citing a presentation given by the Indian Institute of Technology Kanpur (IIT), Kumar went on to describe how 'we can take a high-quality picture from above and we can easily analyse the area belonging to dumps or to the green area. They [IIT] also talked about how the inspection of an area can be done with the help of drones. We don't need to go there physically. Also, we can assess the production by seeing the depth to which the miner has gone to. So, if the miner tells us that if he has taken out 10 000 tons of mineral, we can easily check it through the images'.
Drones, however, are merely the vehicle for the real breakthrough technology. Echoing a widely held view in the global surveying industry, Lewis Graham, president and chief technical officer of GeoCue Group, says he believes that drones will soon be thought of in the same way GPS is now – an essential surveying tool. But ultimately, as one of many options. 'In two or three years, every survey truck will have a drone on board,' Graham told Commercial UAV News. 'Upon arriving at a job site, the drone will be assessed as to its applicability to add to the project solution. It will just be another survey tool. Like other surveying instruments, the biggest advances will be in the accompanying software.'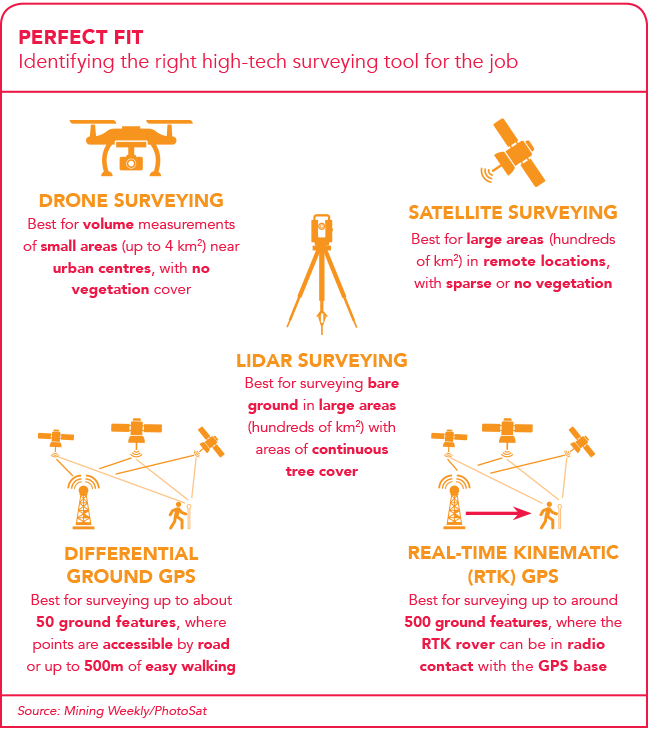 Autonomous mapping drones have a multitude of different applications, from mining to agriculture, land surveying and pipeline mapping, but the software used in each case can – and must – differ dramatically. In mining, airborne laser scanning (lidar) allows large amounts of data to be captured. And by 'large amounts' we mean millions of points per square kilometre. This density of information can be used to build a comprehensive data set, in the form of digital terrain models or digital elevation models – which, in turn, can be used in volume calculations, structural geology, geomorphology, slope analysis, surface run-off modelling and so on.
All of this is blurring the lines between traditional surveying and high-tech geographic information system (GIS) photogrammetry. Armed with this wealth of data, surveyors are becoming GIS technologists, while GIS specialists are now also turning into surveying experts, thanks to their easy-to-use laser-scanning tools. This crossover was demonstrated at Intergeo 2016, the global geoinformation conference held in Hamburg last year. The event attracted 531 exhibitors, about a quarter of whom showcased equipment or software solutions for single or multi-sensor UAVs.
Hennie Grobler would have had this all in the back of his mind when he was elected president of the Institute of Mine Surveyors of Southern Africa (IMSSA) in September 2015. 'The mining industry increasingly expects mine surveyors to provide a high standard of information within shorter time frames with ever-decreasing manpower,' Grobler told the media at the time. 'The rapid advancement in geographic information systems, laser scanning and remotely piloted aerial systems provide opportunities for more accurate data gathering and value-adding interpretation of information to improve productivity.'
Those rapid technological developments are causing new graduates to struggle to adapt to the mining culture when they join the workforce, he said, adding that the IMSSA had started a dialogue with the Department of Mineral Resources, industry partners and members aiming to optimise the qualification routes for all surveyors. 'During my term at IMSSA, I plan to improve the assessment format of the Government Certificate of Competency. This certificate is required to be appointed as the responsible mine surveyor of a mine and professional registration. The institute wants to see the profession implementing new technology to provide efficient, sustainable solutions to the problems currently experienced by the mining industry internationally,' said Grobler.
'A mutually acceptable model must be agreed upon between state, industry and education – and implemented as soon as possible. It is our duty not only to share our experiences, but also to apply this knowledge in developing new skill sets to fully exploit technologies such as scanning, photogrammetry, automation and 3D imaging,' he said.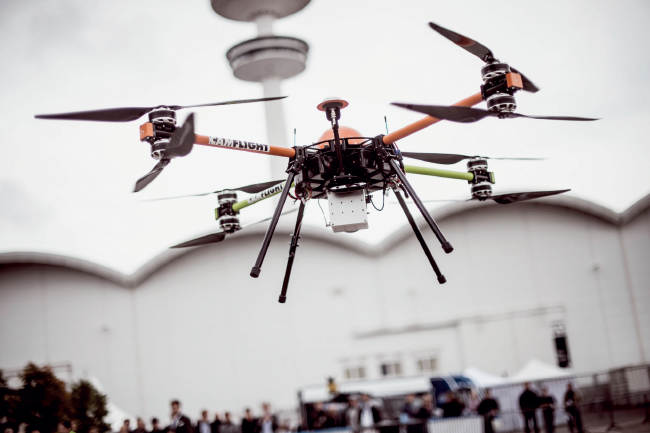 Those technologies are changing even more rapidly than one might think. At the annual Prospectors and Developers Association of Canada conference held in Toronto in March this year, an innovation contest hosted by gold exploration company Integra Gold produced a fascinating winner. Kore Mining pitched the concept of instrumentation that provides real-time geological data. The catch? The instrument was built into the drillhead.
'Kore was about doing things that we already do and making us more efficient,' according to Integra Gold CEO Stephen de Jong. 'We drill a lot but instead of just having a geologist log your core and sample it, what else can be gained from that? So things like pressure on the drillhead, what can that tell us about the hardness of the rock? Instead of coming back later on and surveying the hole and doing different tests within the hole, why don't we put some of that within the drillhead?'
Meanwhile in Brazil, Vale, the world's largest iron ore and nickel producer, entered into a partnership with the British Geological Survey in 2013, which sees them using virtual reality (VR) – a system that enables up to 14 people to interact with a 6m x 4m screen via hand-held controllers – to shape their decision-making. Vale uses VR to conduct geological, geotechnical and environmental studies – all powered by the data gathered through its surveying operations.
It is surveying – but on a level that nobody operating a theodolite and a tape measure 40 years ago could possibly have imagined. Yet, as Exxaro CEO Mxolisi Mgojo argued during a recent presentation to the Gordon Institute of Business Science, innovative advancement is no longer a nice-to-have but an imperative for the mining industry's survival into the years ahead. As he put it, 'if we're going to understand the future, we've actually got to step into the future'.
By Mark van Dijk
Images: Anglo American, Intergeo