The early prospectors knew – in a way only they could – there was gold in the hills around Melville Koppies in what was to become Johannesburg. In the 1850s they expected the local quartz veins to contain gold – and they did, but in nowhere near the payable amounts that would make it worthwhile to mine. So they changed their approach, adjusted their way of working, and started looking in the conglomerate that made up the main reef. In 1886 they found what they were looking for, and since then, the rocks here have produced about 40% of the gold ever mined on Earth.
There's a similar sense in South Africa's mining industry today; the feeling that the riches lie in doing things differently. Speaking at the 2018 Cross-Border Mining Services Indaba, CGC Consulting Services CEO Clive Govender said that the industry should radically shift to a new way of working. '[It] needs to look at how it can capitalise on the "new dawn" that mining is seeing in Zimbabwe and South Africa, especially looking at mining services and supply chain procurement and management in Africa,' he said at the time. Speaking more recently to Mining Decisions, Govender highlights specific areas of innovation he believes should be prioritised. 'Anything related to improving the safety of our people on mines should be looked at,' he says. 'We need new ways of doing things – taking away the man at the face of the mining activity – that will drive a whole new level of efficiency and productivity.'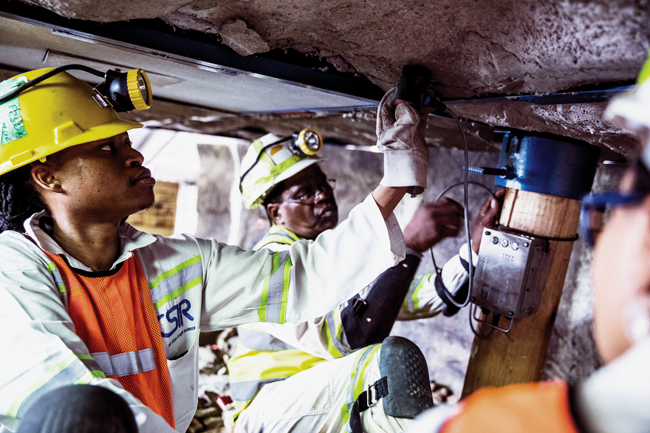 Govender acknowledges a few 'positive moves' but insists more needs to be done. 'Mining needs to move more aggressively in trying to implement and commercialise these innovations as quickly as possible.' The South African government has been moving on this for some time now. In 2015, led by the presidency, it launched the Mining Phakisa, bringing industry stakeholders together to create a shared vision of growth and transformation, based on collaborative R&D. That sounds like a high-minded goal, but it was driven by an urgent need to change what had started to look like a bleak future for the local mining sector. 'The main focus was to look at what would happen particularly to our gold and platinum mines if we stayed as we were in terms of the commodity price, the increase in costs, the labour costs and so on,' says Navin Singh, manager for mining and mineral resources at the Council for Scientific and Industrial Research (CSIR). 'The projection was that by the year 2030 we could see that most of our mines would potentially close down. They were just not sustainable.' In other words, something needed to change.
The result of the Mining Phakisa was the establishment in 2018 of the new Mandela Mining Precinct, located at the CSIR's Carlow Road facility – adjacent to the Melville Koppies nature reserve, and a half-hour's walk from the universities of Johannesburg and Witwatersrand. 'R&D in the South African mining industry has a chequered past,' says Singh. 'The Chamber of Mining Research Organisation [Comro] was fairly successful in the 1980s and 1990s. You had 1 000-odd people involved in mining R&D at the time, but it was predominantly driven – and fully funded – by industry.'

When industry shifted its attention overseas, the funding dropped off, the state took over and Comro was transferred into the CSIR. 'Capability and capacity were slowly eroded, so much so that when I joined the CSIR in 2015 we only had about seven full-time researchers, and the funding from government was about ZAR1 million per year,' he says. 'Compare that to the ZAR300 million to ZAR400 million, in terms of today's money, that was there in the Comro days. 'R&D failed under industry and it failed under state,' says Singh. 'The only way for us to make this work was to have both parties sitting across the table, looking each other in the eye and holding each other accountable. At the same time, we involved academia and the CSIR because when the erosion took place, some companies created their own centres of competence. They were all doing different things, and no one was doing it all'.
The Mandela Mining Precinct is based on a hub-and-spokes model, with the precinct being the hub, and industry stakeholders serving as the spokes. Three state departments – Mineral Resources, Science and Technology, and Trade and Industry – are involved, thereby creating, for the first time, co-operative linkages between and within government, industry, academia and the various R&D centres.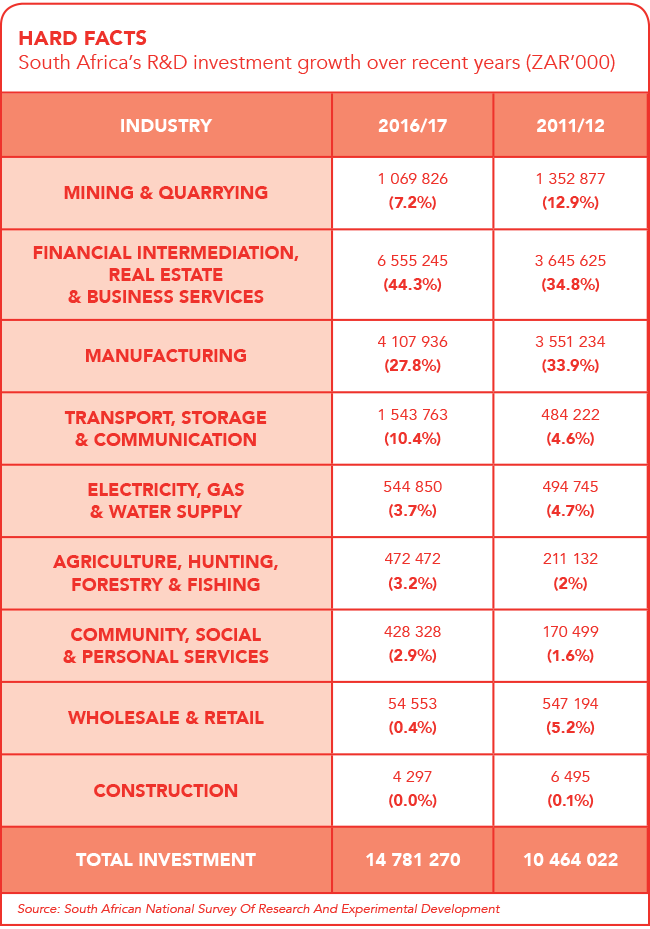 Through those linkages, researchers are working in three key areas of mining R&D. The first aims to increase the efficiency of extraction and improving the occupational health and safety of current mining operations, while reducing costs. The second looks at developing fully mechanised mining systems. According to Singh, modernisation needs to happen, and mechanisation is a subset of that. The third area of research is in non-explosive rock breaking. 'When you look at the geology of our ore bodies, they're very narrow – in some cases less than 50 cm – so we've had to think of a method that's not dependent on explosives but that is a continuous method of mining, and only mining that portion,' he says.
One of the 'spokes' of the precinct is SiMINE, a purpose-built mining simulation centre located at the same Carlow Road facility. 'It's a practical simulation of the material movement process, which is based on open-cast mining,' says SiMINE partner and Vuuma Collaborations director Harry Sinko. 'We use it to train people in different methodologies around process improvement, business improvement and the like; and to test technologies and innovations that come about through the Mandela Mining Precinct and other areas.

Affiliate organisations such as Transrupt, Esteq Mining and Capflow, which are developing various Mining 4.0 solutions, also use the SiMINE environment for testing. 'What we are in place for, principally, is to bring those different technologies together and test them out,' says Sinko. 'Being in this space, they have easy access to us to test their technologies and approaches. We're spending a lot of time guiding, facilitating and assisting the Mandela Mining Precinct's strategy and practical deployment.'
Of course, collaboration works both ways. 'We also have access to the enterprises who come through the front door,' says Sinko. 'They're interested in us and what we're doing, and through that we get referrals and further work.' The model of enabling role players to work together also helps to avoid a situation where they're working in isolation – or against each other. 'The nature of the R&D space for many years was that organisations would fight against each other by putting in the lowest bid – in terms of both time and cost – to find the solution,' says Singh. 'Ultimately we were all fighting over one piece of the pie, and getting stuck instead of coming up with one large solution.'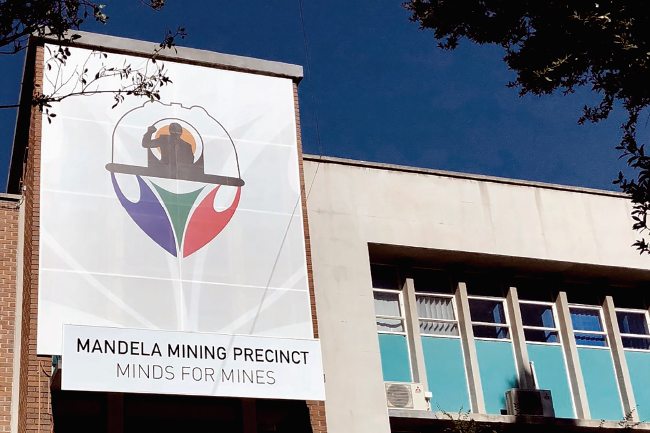 Singh adds that one of the guiding principles of the new approach is that competitive bidding is replaced by a collaborative approach. 'The way we work is we put a problem statement on the table for the researchers, and we do not define time, nor do we define money. We don't know how long it's going to take us and we don't know how much it's going to cost us,' he says. 'By allowing the researchers to collaborate and come up with one solution, we ensure that there's no duplication, that they're building on each other's strengths, and that we get a better solution.'

The parties involved also get better value for their R&D spend by pooling resources, sharing research costs and benefiting from the government's commitment to help with funding. 'There's a common need,' according to Singh. Whether you're Anglo Platinum or Sibanye-Stillwater or Lonmin or Impala, 'you all have your heads under water and you need to be brought out of that collectively and individually', he says. 'We're looking to understand what the problems are, look for the common solution, and then help the guys to work on that together. That's the kind of leverage we're creating at the Mandela Mining Precinct. We've brought the companies together to talk to each other, and we've brought the companies and state together to talk to each other. This never used to happen before.'
Sinko is already seeing the benefits. 'The potential of this approach is huge,' he says. 'The execution is often a challenge, and that's still being refined. But we're finding, from a SiMINE perspective, that it's going quite well. Things are moving in a good direction.'
By Mark van Dijk
Images: Anglo American, CSIR, SiMINE