If you're looking for the future of mining, there's a good chance you'll find a portion of it floating in a tailings pond at the Los Bronces copper mine. Here, in an artificial lagoon 3 500 m above sea level and 65 km outside Santiago, Chile, Anglo American has installed a floating island made up of 256 solar panels, which are being tested as a way to power operations and reduce water loss at the mine.
In Chile – and in South Africa – mining is a key sector of the national economy, but its current way of working uses vast amounts of water and electricity. As global mining companies look to lower costs and stream-line operations by using less water and less power more efficiently, innovations like this one at Los Bronces may soon become more than a just a local oddity.
Consider that the 1 200 m² artificial island, tethered to the bottom of the pond to keep its orientation to the sun just right, is able to produce about 86 kW of power, and that its shadow lowers the water temperature enough to reduce evaporation by 80%. 'With this system, we can make our freshwater consumption more efficient, in line with our goal of re-imagining mining and reducing Anglo American's freshwater consumption by 50% by 2030, as well as the CO2 emissions by producing non-polluting energy,' Patricio Chacana, vice-president of operations at Los Bronces, told Reuters.
Across the ocean, Jeff Radebe, South African Minister of Energy, outlined the link between the energy and mining sectors during his address at the Investing in African Mining Indaba in February. 'Globally the mining sector contributes – directly and indirectly – about 45% of the world's gross domestic product,' he said. 'The mining industry is also a major consumer of energy and responsible for more than 38% of the total industrial energy use, which translates into the consumption of 19% of coal and coal products, 5% of all gas products, and 2% of the global oil supply.'

He added that in Southern Africa, the energy-intensive users group alone – 48% of which are from the mining sector – consumes more than 40% of electricity produced in South Africa. Radebe's point about the minerals sector being both a producer of and a significant consumer of the global energy supply was not lost on those within the sector who are trying to improve energy efficiencies at mines across the country. At institutions such as the Council for Scientific and Industrial Research (CSIR), the Mandela Mining Precinct and the Mining Institute at the University of the Witwatersrand, researchers are working feverishly in a handful of high-priority areas of research.
One of these, of course, is solar power – as Anglo's Los Bronces island indicates. Another relates to the development of technologies for the treatment of mine wastewater: here the CSIR has already had some success in treating acid mine drainage and recovering metals from wastewater. Many mining systems are hydro-powered or use pneumatic drills that require either water or electricity to drive them. Taking water and electricity as system inputs, the CSIR's research teams are currently looking at ways to optimise those systems by identifying leakages and minimising wastage so that they're able to put power back into the grid.
The CSIR has identified fuel-cell technology as a promising alternative to both electrical and diesel power. Significant work is being done in this field around the world, with hydrogen increasingly emerging as an alternative option for fixed plant and mobile fleet energy. During his address at the Mining Indaba, South African Minister of Mineral Resources Gwede Mantashe confirmed that independent mineral processor Mintek had been designated by government to host the Centre of Competence in Hydrogen Catalysis (HySA), with a specific focus on beneficiating platinum through its use in hydrogen-powered fuel cells. 'Mintek's area of specialisation is the development of PGM-based catalysts for fuel-cell membrane electrode assemblies and technologies that feature in the early parts of the fuel-cell value chain such as catalysts, the electrodes, and fuel-cell stacks for low-temperature PEM [proton exchange membrane] fuel cells,' he said.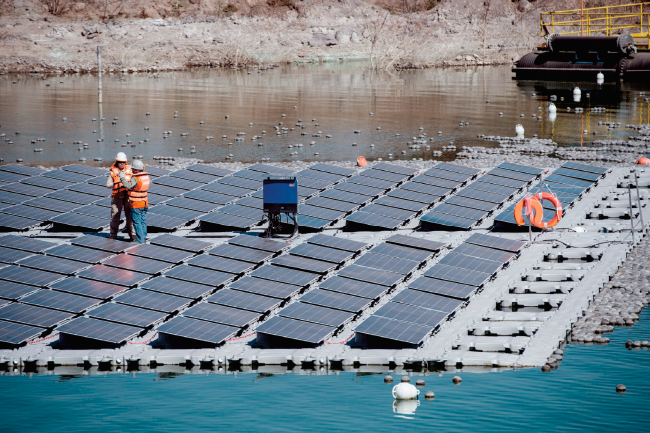 The hope is that the fuel-cell research being done at institutions such as the CSIR will ultimately create a cycle: with optimised processes, South Africa will be able to mine more platinum, which will allow for the production of more and better fuel cells, which will in turn drive demand for platinum, and so on. Platinum will then be both an output and an input of South Africa's mining process – as it should be in a country that accounts for more than 80% of the world's PGM reserves. As Mantashe noted: 'With the world's biggest platinum deposits, we are duty-bound to pursue cutting-edge research towards mineral beneficiation, especially in light of increased substitution of platinum and the move to electric vehicles.'
Marc Allen, director of Australia's Coalition for Energy Efficient Comminution (CEEC), explains the attraction of hydrogen fuel cells in a recent online post. 'The key advantage of hydrogen over other potential energy storage options is its ability to discharge energy over a longer time period compared with other options, making it an appropriate option for energy supply system backup for medium-to-large-scale power systems that are islanded from main grids,' he writes, adding that those fuel cells have the added potential of powering the larger haul trucks and materials-handling equipment associated with open-pit mines.
'The mass of batteries required and the time taken to recharge may be a disadvantage when it comes to vehicles of this size,' says Allen. 'Natural gas and then hydrogen provide a lower emissions alternative to diesel that can be refuelled relatively quickly and provide the required power.' And in underground mining, a switch from diesel to 'cleaner' fuels has the added benefit of reducing both power consumption and ventilation load in the mine. Diesel fumes are known to contain various contaminants, which can make work in a closed environment – such as, of course, an underground mine – dangerous for human workers. Clean, relatively cool, breathable air is an absolute necessity in the baking hot conditions of underground mining – so much so that, according to Remy Bourcier, engineering manager at Australian company Minetek, 'between 42% and 49% of a mine's energy costs are consumed by mine ventilation, with the figure of about 27% attributed to the cost of secondary ventilation alone'. He adds that 'typically, a fan consuming 190 kW with an electricity price of 15 cents/kW will cost US$249 660 p/a to run, and may not even be properly compliant. Considering the average mine uses about 15 secondary fans, the total annual consumption costs around US$3 744 900'.

Bourcier was speaking to Mining Review at the launch of Minetek's new secondary mine-ventilation system, which reduces power wastage through performance-on-demand units that automatically sense how much air is needed in any one heading at any time. 'Until now, the market has used high-maintenance variable-speed drives to provide some level of control to the air flow in secondary ventilation systems. But our patented system works on high-pressure, steel-fabricated impeller technology, allowing operation at temperatures and conditions previously thought impractical for an axial fan – and we achieve this in seriously harsh environments.'
In his Mining Indaba address, Radebe noted that globally 'the energy sector is undergoing a transformation driven by the need to decarbonise, decentralise and digitise'. He added that adoption of renewable energy and related technologies such as hydrogen fuel cells would increase the demand of minerals and metals required for their production. As an example, he said, 'cobalt is used for wind technology, electric vehicles and storage technologies. More than 60% of the world's cobalt supply is from the Democratic Republic of Congo, yet access to electricity in the DRC is low'.
In the DRC – as in Chile, Australia and South Africa – there's a growing understanding that, on the back of renewables and alternative energy sources, the mining sector's global push towards efficient energy supply may well create a virtuous cycle, where consumption and production drive each other.
By Mark van Dijk
Images: Gallo/Getty images