In what seems like déjà vu, the world is once again hunting Africa's mineral riches. But this time round, the continent may even be able to cash in on the demand. The spotlight is on 'green metals' – the minerals and metals necessary for humanity's transition to a low-carbon future. These include lithium, cobalt, nickel and copper (the most common battery metals), as well as chromium, zinc, platinum group metals (PGMs), aluminium and manganese, among others, and they happen to be plentiful in Africa.
The increased interest is directly linked to the clean technologies required to limit global warming, as all of these – from wind turbines and solar PV to electric vehicles (EVs) and battery storage – are made from green metal components. That's also why the term 'green metals' is commonly used; it refers to their essential role in the green-energy transition, regardless of their own environmental and social footprint. Other, possibly more accurate, monikers such as 'transition minerals', 'minerals of the future', or simply referring to them as 'green-ish', have not stuck.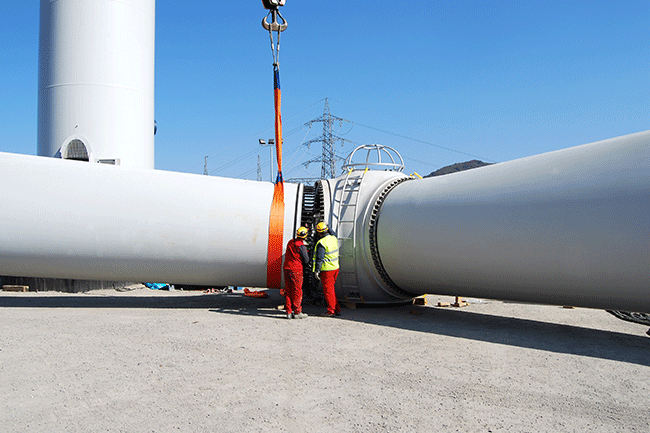 'The transition from a fossil-fuel base to a low-carbon economy is often portrayed as being in conflict with mining and it is generally assumed that natural resource-based economic activities have no future in a low-carbon economy,' says Lloyd Christie, an environmental lawyer and executive at ENSafrica. 'However, the transition to an alternative energy system will rely heavily on the availability of the metals and minerals necessary for the manufacturing of clean technologies.'
There are no alternatives to mined materials, according to Allan Seccombe, head of communications at the Minerals Council South Africa. 'As populations grow around the world, the demand for minerals will grow too, and mining is the only way to fulfil this demand.' When seen in the context of the expected skyrocketing demand for EVs, batteries and renewable energy, the hunger for certain minerals will become ravenous. A 2020 World Bank report on minerals for climate action estimates that, in order to meet this increasing demand, the exploration of minerals (such as the battery materials graphite, lithium and cobalt) could increase by nearly 500% by 2050. More than 3 billion tons of 'green metals' will be needed to deploy the renewable power and energy storage that is required to keep the global warming at below 2°C of the pre-industrial temperature.
The estimates on exact types and volume of minerals depend on which clean-energy technologies will be deployed over the next three decades. Yet it's already clear that some of these are 'high-impact' components in the global decarbonisation effort and therefore highly likely to experience major demand – for example lithium, nickel, graphite and cobalt, which are central in energy storage for EV batteries and renewable-power grid stabilisation. The report warns of significant supply risks for minerals that will require dramatic increases in production capacity (notably lithium), or are produced primarily in one geographic location (such as cobalt, with the DRC accounting for 70% of the entire global output).
'Demand for high-impact minerals is both potentially high and uncertain,' states the World Bank. 'Relatively small changes in the amount and type of energy storage technologies and sub-technologies deployed could have large implications for the markets of these minerals.'
In the case of copper and aluminium, however, the demand is expected to significantly increase no matter what clean technology is deployed. The 'cross-cutting' nature of these metals means that they are being used across many diverse energy technologies and will, therefore, be the least impacted by changes.
EY advises that carmakers and original equipment manufacturers (OEMs) act now to secure an additional supply of those minerals and metals that are critical to meet the demand for their products. The business consultancy warns that the mineral supply might become an e-mobility roadblock, seeing that Tesla alone could need up to 1.15 million tons of nickel each year – almost 50% of the current global supply – to meet its EV targets.
For mining companies, this provides new opportunities for diversification. 'A number of producers enjoy additional revenue streams from the base metals that they are able to mine and recover together with PGMs, such as nickel, copper and cobalt,' says Sandra du Toit, EY Africa energy and natural resources leader. 'Projections on some upcoming projects – which have higher base metal content on their ore compared to other producing mines – suggest that base metal sales alone would be sufficient to financially sustain operations. These varying commodity revenue streams, for a large number of industry players, have been further supplemented with revenue from the sale of chrome, recovered incidentally to their primary pursuit of PGMs.'
South Africa is home to more than 80% of the world's known PGM reserves, which are central to the nascent green-hydrogen industry. 'Zinc, manganese, nickel and copper are the other important minerals South Africa has that will feed into the demand for green metals,' says Seccombe. 'South Africa is the largest producer of PGMs and manganese ore. There are mines operating and in development in the Northern Cape to supply zinc, while nickel and copper are major by-products of PGM mining. South Africa also has limited primary copper production both in Limpopo and the Northern Cape.'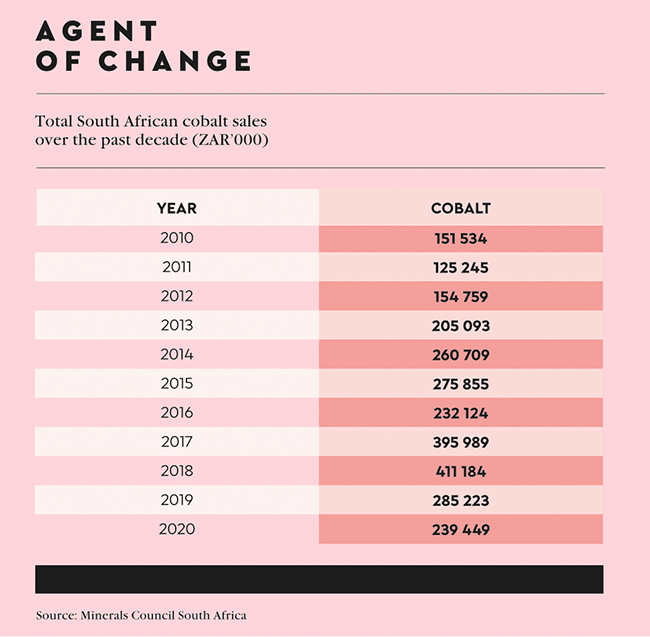 Across the border, battery minerals are found in Mozambique and Tanzania (graphite), Botswana and Zimbabwe (nickel), as well as in Mozambique and Madagascar (titanium).
Coal producer Exxaro is among the Africa-based mining companies that have started moving into green metals such as copper and manganese (used in batteries). It also plans to invest in bauxite, a raw material used to make aluminium for EVs and solar panels, according to Bloomberg. The agency further reports that Exxaro's new minerals business could generate the equivalent of 50% of the core profit from coal within 10 years. Meanwhile African Rainbow Minerals, which mines PGMs, iron ore, manganese, nickel and coal in South Africa, announced that it is scouting new acquisitions to add green metals to its portfolio.
As an early mover in this arena, Sibanye-Stillwater made several green-metals acquisitions in 2021, in line with its ESG commitments towards becoming carbon neutral. In November, the company issued US$1.2 billion of new bonds to finance its green-metals strategy. The world's largest primary producer of platinum and third-largest gold producer now also has stakes in a lithium project in Finland, a nickel-processing facility in France, a lithium-boron project in the US as well as a copper mine and a zinc tailing retreatment operation in Australia – in addition to its South African mines. 'At the moment our key focus is on Europe and the US where giga-factories are being built to supply batteries for the electric vehicle market for VW, BMW and other European OEMs, and for General Motors and Tesla in the US,' says James Wellsted, executive VP of investor relations and corporate affairs at Sibanye-Stillwater. The company would consider expanding its battery metals operations into Africa, if it came across 'a really good-quality deposit', he says. 'But Africa isn't likely to be a major producer of EV batteries for some time, so we focus on those regions where we can be closer to the end-user markets.'


A recent study by Trade and Investment Policies looked into commercial opportunities in the lithium-ion battery (LiB) value chain for South Africa, which is important to the local development of the EV and renewable-energy industries. It found 'key pockets of excellence' in battery manufacturing, LiB-related mineral beneficiation and mining. The report said that battery manufacturing and mineral refining are ready for scale-up, but cell manufacturing and recycling should be explored in the medium to long term, provided they prove to be economically sustainable.
Recycling and reclaiming play a crucial role in the circular economy and low-carbon future, and adds to the 'green' credentials of any given material. Tailings retreatment business DRDGold recently announced that it would follow its majority shareholder Sibanye-Stillwater into 'green metals'. In line with its business model, DRDGold intends to expand its existing gold operations to produce green metals from already stockpiled waste material in mine dumps, using greywater and clean energy.
'South Africa is one of the front runners in retreating dumps, extracting gold, PGMs, and chrome for example, with entire businesses build on these processes,' according to Seccombe. 'However, there does come a point when tailings and dumps are sterile after all possible and financially viable minerals are extracted.
'As a source of minerals, these are relatively small and measurably finite resources, which are dwarfed by untapped mineral deposits in the earth. While they might serve as an environmentally softer source of minerals, the world still needs the primary sources of minerals that come from mining.'
The question is therefore not whether the transition to a low-carbon future really needs more mines but, rather, how can the continent reap the financial benefits while ensuring that the minerals are extracted in the most environmentally and socially responsible way possible.
By Silke Colquhoun
Images: Gallo/Getty Images