At first sight it may seem bizarre that the companies accelerating the 'clean' energy movement in Africa are those in the 'dirty' industry of mineral extraction. But on closer inspection, it makes perfect sense. Mining companies have been reinventing themselves to stay invested in the global quest for net zero carbon – and are now driving this mission by generating renewable energy to power their operations and by producing the 'green' minerals necessary for the components to build those clean-energy installations.
Mining is an energy-intensive business that uses as much as 30% of the total power produced in South Africa, which means the unreliable state power utility Eskom, with its rolling blackouts and maintenance issues, has been crippling the industry. 'Not having electricity is very bad for us; at any given time we have almost 200 000 people underground at the mines whose lives depend on the availability of electricity,' says Christian Teffo, technology analyst at the Minerals Council South Africa (MCSA). 'We also rely on the operation of heavy machinery. If you stop smelters without notice, the mixtures inside can freeze up and you lose the smelter, which has happened to some of us when South Africa went into load shedding Stage 6.'

To reduce equipment damage and keep the workforce safe – as well as cut electricity costs and reduce greenhouse gas emissions – most MCSA members are turning to renew-able energy, Teffo said in an eNCA interview. 'Our strategy is to work hand in hand with Eskom, which will remain an important supplier of 24/7 baseload power for our mines.'
In a move to unlock private investment in renewables, the Presidential Task Team abolished the 100 MW cap on embedded power-generation projects in July 2022. South Africa has also started to streamline the application and regulatory processes to expedite clean-energy projects. Consequently, mining projects now make up 80% (6.5 GW) of the private-sector pipeline of clean-energy initiatives (8.2 GW in total). According to the MCSA, 29 mining companies have 89 energy projects with a combined value of more than ZAR100 billion under way. The bulk of these are solar energy (6.2 GW), followed by wind (200 MW), battery storage (84 MW) and biomass (8 MW).
'This will also inject much-needed electricity into the national grid and allow Eskom some space to conduct maintenance on existing power infrastructure,' said Teffo.
Moving towards renewables also de-risks businesses in the face of skyrocketing electricity tariffs. In the past decade, electricity prices have increased by more than six times, according to the MCSA. At the end of 2021, electricity was the second-largest cost component after salaries for deep-level and electricity-intensive mines. Gold miner Harmony says that solar energy comes in at 25% below the current Eskom price, and expects its renewable-energy strategy to save the company more than ZAR500 million per year from 2025 onwards.
Partnerships with independent power producers (IPPs) are gaining momentum in Africa, as are joint ventures (JVs) and renewable-energy companies that are 100%-owned by miners. For example, diversified mining company Exxaro, one of South Africa's top five coal producers, established a renewable energy JV in 2012. Exxaro bought the entire firm, called Cennergi, in 2019 and has developed a pipeline of multi-technology (wind, solar and storage) solutions. Importantly, it now intends to use its expertise to provide renewable energy to other mining and private-sector companies.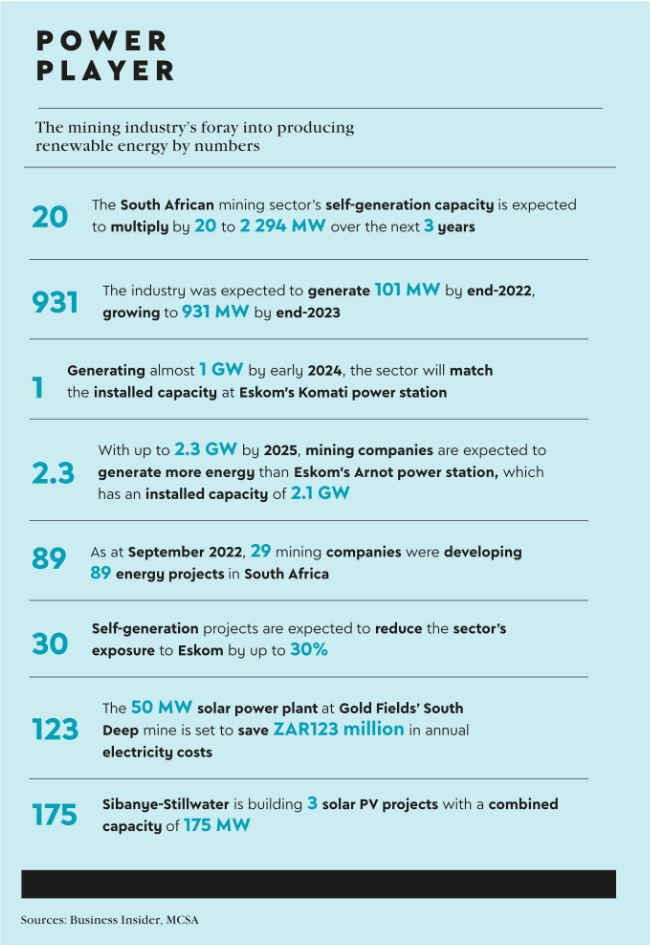 In 2021, Exxaro and Seriti Resources (the two largest coal suppliers to Eskom, providing 80% of its annual supply) signed an MoU with the state-owned utility to develop renewable-energy projects to lower their carbon footprint. Starting with the construction of solar PV facilities at mines and Eskom sites, this may be followed up with energy storage and possibly wind-energy facilities. For Seriti this would mean halving its CO2 emissions from 700 000 tons to 350 000 tons per year.
Cennergi is building the 80 MW Lephalale solar project to decarbonise Exxaro's flagship Grootegeluk mine in Limpopo. 'When the project commences operations in 2024, it will significantly reduce power costs and result in the reduction of Scope 2 carbon emissions at the mine by a third,' says Roland Tatnall, MD of Cennergi and energy MD at Exxaro. 'Concurrently, we are developing a wind solution for Grootegeluk, which will reduce costs and carbon emissions further.'
South African mining companies at present generate more solar than wind power, but the interest in wind is growing. Teffo puts the ratio at 75% solar versus 25% wind. This is partly owing to the authorisation time frames, as he says it often takes two years or significantly less for solar, but up to four years to secure wind-generation approval.
Niveshen Govender, CEO of the South African Wind Energy Association, explains that 'a wind farm requires additional permitting for the transportation of abnormal loads such as the turbine blades, which can also require increased logistics costs'. He adds that 'due to the recent removal of the generation licence cap, mines can now procure energy from independent power producers willing to instal significantly large wind plants or instal their own wind plants in-house. As an industry, we are seeing an increased interest in wind-energy projects being considered and developed for private off-take application'.
Among these is Anglo American's JV with the South African subsidiary of French multinational EDF Renewables, which will launch 600 MW of wind and solar projects in the first phase. The new company is called Envusa Energy (meaning 'to awaken' or 'new beginnings' in Nguni) and its purpose is to develop 'a regional renewable-energy ecosystem' (RREE) in South Africa.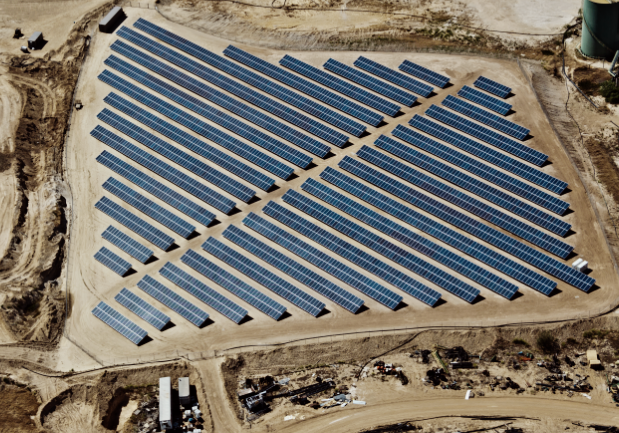 Envusa will supply a blend of renewable energy generated on Anglo American's sites and in other areas, from where the power will be transmitted ('wheeled') via the national grid. 'This energy portfolio approach will aggregate energy from geographically dispersed renewable generating assets and allocate this energy optimally to meet the load demand for Anglo American's sites,' said the miner in October. 'Envusa Energy is exploring a range of community partnership models that will enable host communities to share in the benefits created by the development of the RREE, along its value chain.' Furthermore, the RREE will support South Africa's Hydrogen Valley and power Anglo American's planned fleet of hydrogen-fuelled, zero emission mine haul trucks.
Pan African Resources, meanwhile, teamed up with Juwi Renewable Energies SA (the local subsidiary of the Germany-based multinational) to bring online a 10 MW solar plant at its Evander gold mine in May 2022. It was reportedly the first of this capacity to be commissioned by a miner in South Africa, and saves about ZAR100 000 in electricity costs daily. The company will add another 20 MW of solar over the next two years.

Gold Fields is set to add 50 MW of solar generation, while Harmony Gold has three solar plants (30 MW) under construction in the Free State by an IPP. They are due to generate the first energy in March 2023, and mitigate 65 000 tons of GHG emissions in their first 12 months of operation.
As additional renewable-energy plants come online in Africa, mining companies will benefit from the more reliable, cost-effective and clean electricity supply, which in turn frees up national grid capacity for other users.
Energy security, along with the emissions savings, is an important part in the just energy transition, nudging the continent closer to the goal of net zero carbon.
By Silke Colquhoun
Images: Gallo/Getty Images