Mining is a significant source of employment in many African countries – and South Africa is no exception. That said, many of those employed in the sector are low-skilled workers with limited formal education.
According to the South African Chamber of Mines, given the dynamic nature of the labour market, the mining industry is likely to always face difficulties as far as education and skills development are concerned. 'There are many challenges associated with developing the skills needed for mining. A legacy of poor educational opportunities for many – especially older employees – and the current basic education system has resulted in many employees having little or low levels of literacy and numeracy,' the chamber states on its website.
'A national shortage of skills increases the portability of skilled mining industry personnel and sufficient people need to be trained in order to prevent a shortage of skills in the mining industry.'
Investment in education and training and development makes sense for various reasons, least of all because it makes for safer and more productive workplaces – not to mention the industry as a whole. Employees who are encouraged to improve themselves and grow their skills sets are also likely to be a more motivated and dedicated workforce. The chamber, in a 2015 skills development fact sheet, says: 'Providing skills to employees is vital to the long-term success of the industry. It contributes towards improving safety and productivity, provides opportunities for personal development so that companies can attract and retain suitable employees, and is a vehicle for transforming the workplace.'
The Mining Charter stipulates that all mining companies invest 5% of their annual payroll in skills development. As noted in the chamber's aforementioned fact sheet, some ZAR3.8 billion was invested in skills development in South Africa's mining sector during 2014. In addition to the 5% of payroll, companies pay a further 1% of their payroll as a skills development levy.
The Mining Qualifications Authority (MQA) is the mining industry's sector education and training authority (SETA). It is responsible for developing and administering learning programmes for the mining and minerals sector in the country. According to the skills plan for the sector, which is prepared in accordance with the National Skills Development Strategy, the mining and minerals sector has 'one of the lowest levels of education in the economy', with 32.7% of the sector's employees possessing an education level below NQF level 1. Under this premise, the MQA is a strong supporter of adult education and training (AET) and adult basic education and training (ABET), which the chamber considers a 'mainstay of skills-development offerings in the mining industry' as well as to local communities.
'Great strides have been made towards developing a workforce that is skilled, productive and engaged,' says Mbali Magudulela, vice-president of human capital development at Sibanye Gold. 'The main aim of our human capital-development programmes is to equip our employees with the requisite skills and competencies to ensure safe production. There are training and development opportunities for employees to be upskilled in order to meet required standards.'
To ensure that a training talent pipeline is maintained, Sibanye focuses on providing AET learnerships, skills programmes, portable skills training, coaching and mentorship, and internships and bursaries. The company runs its own training facility, the Sibanye Gold Academy, which is located in South Africa's Gauteng province and fully accredited by the MQA, with programmes that are approved by various SETAs. Satellite campuses, managed by the academy, are located at each operation.
'The fundamentals of upskilling are difficult to achieve, as the industry has traditionally relied primarily on unskilled and semi-skilled labour'
Magudulela explains that all employees entering the mine as novices are taught a skill to initiate their work career. 'As they progress through the ranks, there are more opportunities for further development to complement the experience gained and enable the employees to cope with their new work demands.'
As far as the education level of employees is concerned, Magudulela says that older employees are predominantly semi-literate, while the younger generation has a higher level of literacy, due to the majority of them having attended school. 'Most of the younger new entrants to the industry are literate and indications are that there is a greater expectation for skills development opportunities that can translate into career advancement.'
In 2014, the Sibanye Gold Group spent ZAR353 million on human capital development, with employees undergoing a combined total of 7.85 million training hours. In 2015, some ZAR385 million was spent, totalling 7.93 million hours of training. As stated in its 2015 integrated annual report, this expenditure included ZAR31.5 million on internships for 107 learners; ZAR17.5 million on bursaries for 216 learners; ZAR46 million on AET for 1 276 employees, ZAR8.5 million on AET for 1 325 community members; ZAR41 million on engineering learnerships for 386 learners; and ZAR39.9 million on mining learnerships for 367 learners.
Artisans form a crucial part of the mining industry's workforce, serving a critical function. The MQA states that artisans comprise 3% of the sector's workforce. However, skilled individuals to fill such positions are in short supply. The chamber says that between 2003 and 2013, the mining industry trained more than 11 340 artisans, at an approximate cost of ZAR300 000 per person. Electricians were among the highest number of artisans produced (3 261), followed by fitters (2 106) and diesel mechanics (1 237). Auto electricians were the fewest – just three. In its annual report 2014/15, the MQA said 1 293 artisan qualifications certificates were issued, while a further 406 artisan qualifications certificates were requested for the period under review.
Sven Lunsche, vice-president of corporate affairs at Gold Fields, argues that there is 'a complete lack of focus' where artisan skills are concerned. 'A reinvigoration of the further education training colleges would provide a much better skills base than what we have at the moment,' he says. 'However, we've seen little progress in this to date.'
In his opinion, poor literacy and numeracy levels pose some of the greatest challenges to skills development. 'The maths and science skills being taught at most schools are completely insufficient. By and large, the fundamentals of upskilling are difficult to achieve in South Africa, as the mining industry has traditionally relied primarily on unskilled and semi-skilled labour.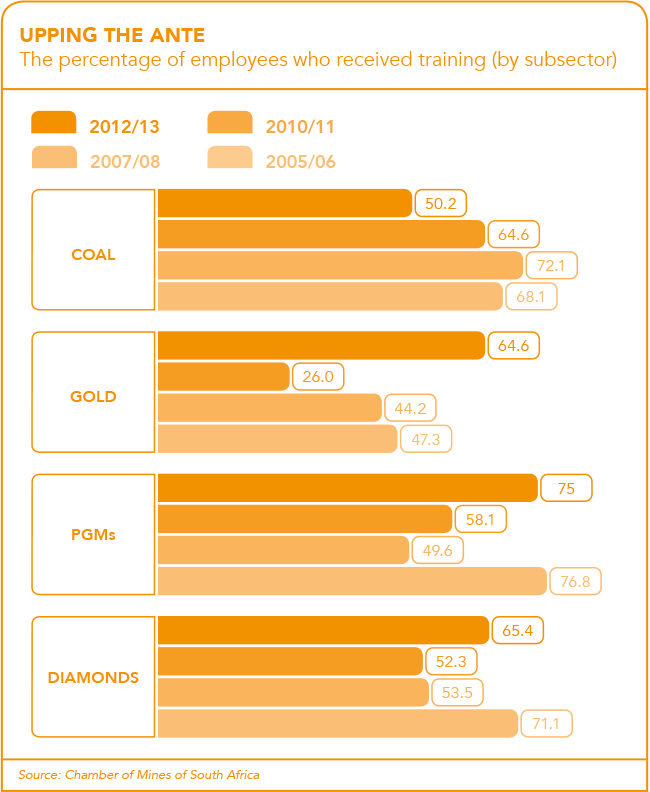 'While many of the workers unfortunately do not always have the requisite numeracy and literacy levels for intensive on-the-job training, supervision and mentorship can enable some workers to improve on their current skills level.'
Gold Fields' South Deep mine near Johannesburg is set to become a leading deep-level mechanised mining operation. According to Lunsche, upskilling mine workers, artisans and technicians has been a crucial part of this development. South Deep runs a mechanised training centre where machine operators are taught to use the equipment properly before going underground.
'We have found, through the training centre, that some of our workers don't have the required educational skills set,' he says. 'Maths literacy levels are not always where they should be to operate a simulator – or other mechanised mining equipment – and to convert the average miner's skills set successfully to mechanised mining. As such, we have augmented this with intensive on-the-job training and mentorship.'
In addition, the mine recruited close to 450 highly skilled, senior-level miners from the platinum sector, who have skills sets that are better suited to South Deep than that of traditional gold mines in South Africa.
In 2014, South Deep partnered with Edumap College to help post-matric students who had not achieved university or tertiary institution exemption improve their grades in maths and science. The project was continued in 2015 through the South Deep Education Trust and a new intake of students was enrolled.
It was also expanded as South Deep partnered with Sci-Bono to provide extra lessons in maths, science and accountancy for selected matric students from all schools in the local community. The mine has also partnered with the provincial Department of Education to help Grade 12 students prepare for their final examinations via a residential camp providing motivational talks and career guidance.
South Deep is considering expanding this to include the mine's sponsorship of the Wits University School of Mining Engineering, as well as working more closely with the South Deep Education and Community Trusts, which independently support a range of early childhood development, secondary and tertiary education projects.
As stated in its integrated annual report 2015, Gold Fields spent in excess of US$12.4 million globally on training and development during 2015.
Impala Platinum (Implats) group HR development manager Ondela Kiva says that the company takes a three-pronged approach to skills development, looking at what it can do to optimise teams in terms of productivity, develop its talent pipeline, and maintain an inflow of future talent and skills.
The company invested ZAR456 million in skills development (6.2% of its payroll) across its South African operations in 2015, up from ZAR331 million in 2014.
Over the year, the group provided an average of 86.9 hours of training per employee. During 2015, the South African operations had 49 full-time bursary holders at university studying engineering and mining-related disciplines, while 222 and 169 individuals respectively benefited from apprenticeship and learnership programmes.
Implats has also seen continual improvement in the level of basic literacy across its operations, with an 82.4% literacy rate in 2015. That year, 433 employees enrolled in ABET for part-time and full-time classes.
The MQA has acknowledged that the sector continues to experience a severe skills shortage, something it argues is 'exacerbated by the lack of HDSAs [historically disadvantaged South Africans] with the requisite skills amid the drive for transformation'.
Such shortages have constrained the sector's growth, it states, adding that various drivers of change will further impact the demand for skills in the sector, including technology; a growing middle class, an ageing population; BEE; and social drivers of change.
It appears the best way to counter skills shortages and replenish depleted numbers of skilled individuals is to increase the focus on training and skills development, and try to build the industry from the inside out.
Investment in training and development makes sense for various reasons, least of all because it makes for safer and more productive workplaces
By Toni Muir
Image: Gallo/Getty Images